A Celebration of Chinese Culture: Chongqing Cultural Delegation
重庆市文化委员会主办,重庆演出公司承办
Location:

Ucheldre Arts Centre, Mill Bank, Holyhead LL65 1TE

Time:

Wednesday 1 November 2017 – Thursday 2 November 2017

Presenter:

Ucheldre Arts Centre and Bangor University's Confucius Institute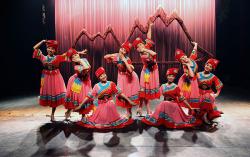 Chongqing Performance CompanyJoin us for a two-day extravaganza of Chinese culture, presented by the internationally acclaimed Chongqing Performance Company. Headlined by a stunning performance of Chinese music and dance, activities will include Chinese craft demonstrations, tea ceremonies and an exhibition of Chinese art.
Wednesday 1 November
4-5pm Chinese craft demonstrations
5-7pm Food & refreshments available, booking required
7-8.30pm Performance of Chinese music and dance*
Thursday 2 November
10.30-11.30am Chinese craft demonstrations
TICKETS
£10 full price/£8 concessions/£3 children. *Tickets for performance only from Ucheldre Box Office (other events free of charge): box-office@ucheldre.org | 01407 763361.