Huw Edwards: Duw a'r Ginshop: hanes cynnar capeli Cymraeg Llundain
Bangor University Archives and Special Collections Annual Lecture
Location:

Pontio Lecture Room 5

Time:

Friday 24 November 2017, 18:00–19:00
Friday, 24 November 6pm
Pontio Lecture Room 5
FREE but ticket required: https://tickets.pontio.co.uk/online/17Ginshop or 01248 382828
The main founder of the first Welsh chapel in London was Edward Jones, a former soldier and publican. In this lecture, Huw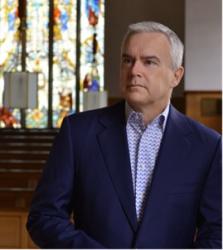 Edwards relates the early history of the Welsh chapels in London, and explains their significance in terms of the history and culture of the London Welsh.

Huw Edwards is one of the foremost broadcasters and communicators of his generation, familiar to the nation through his work on BBC News at Ten and his coverage of major national and international events. This is a special opportunity to hear him speak on his recent research, some of which was undertaken in Bangor University's archives.

This lecture will be given in Welsh. A limited number of simultaneous translation headsets will be available. If you require one, please ensure you book your equipment through the Box Office (01248 382828) when ordering your free ticket.
Parking will be available at the University's Main Arts Building on College Road, and behind the Thoday building on Deiniol Road, and at the public car parks listed on the Pontio website.
Please book your free ticket early to avoid disappointment!