Profi
Auction Night Fundraiser
Location:

The Management Centre

Time:

Wednesday 25 October 2017, 00:00

Presenter:

Profi

Contact:

More information: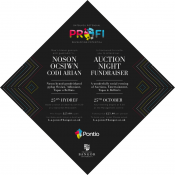 The Profi project is an experiential learning and mentoring programme designed to support Year 12 pupils in local secondary schools. Participants involved develop transferable employability skills such as teamwork, communication and problem solving as well as increasing self-confidence and expanding their horizons. Following a series of 15 weekly workshops, pupils test the skills and competences they have gained throughout the project to a panel of judges in a Dragon's Den style event. The winning team is awarded a cash prize of £500 to implement their community project.
Profi key objectives:
1) to reduce the number of young people who are NEET in the equivalent of Year 13
2) to develop potential, build confidence and increase self-worth within young people
3) to increase the opportunities offered to young people through experiential learning and use of theatre and art.
4) to improve self-esteem, better study and life skills, employability and entrepreneurship skills within young people.
5) to empower young people at risk of becoming NEET to take an active role within Pontio and their communities; and
6) to deepen Pontio's and the University's engagement with the local and wider community by engaging with a breadth of organisations through various networks and partnerships.
Related documents: