Public Lecture: The Role of Wetland Processes in the Global Carbon Cycle and Climate Change
Dr. William J. Mitsch, Everglades Wetland Research Park
Location:

PONTIO Arts Centre, Bangor, LL57 2TQ

Time:

Tuesday 19 February 2019, 17:00–18:30

Presenter:

Dr. William Mitsch

Contact:

01248382088
Although carbon in wetland soils has long been recognised as an important storage of global carbon, very little work has been done to consider the role of current and restored wetlands on carbon processes in the global carbon cycle. Peat deposits in the world's wetlands, particularly in boreal and tropical regions, are substantial storages of carbon (C) in the lithosphere. Of the total storage of carbon in earth's soils of 1,400 to 2,500 Pg-C, anywhere from 20 to 30 percent of that is stored in wetlands. These deep peat deposits, if disturbed could contribute significantly to worldwide atmospheric CO2 levels, depending on rates of draining and oxidation of the peat deposits due to climate change and human development. While much attention has been recently paid to the ability of coastal wetlands (mangroves, salt marshes, and sea grass beds) to sequester carbon (the concept is known as "blue carbon"), less attention has been paid to the ability of inland wetlands, particularly on a global scale, to sequester carbon, even though these wetlands comprise 95% of the world's wetlands. Part of the reason is because these freshwater wetlands often have significant emissions of greenhouse gases, particularly methane.
In this lecture Dr. Mitsch will provide an updated analysis of the balance between carbon sequestration and methane emissions in natural, created, and restored wetlands around the world, as well as illustrating models and previous studies that have attempted to balance these two fluxes to determine the net effect of wetlands on both carbon balances and net radiative forcing. Studies show that most wetlands are net sinks of radiative forcing; exceptions to this are some degrading boreal and tropical wetlands that have been drained and have become net sources of carbon dioxide.
When: Tuesday 19 February, 17.00-18.30
Where: PONTIO Arts Centre, Bangor, LL57 2TQ
17.00-17.30 Free drinks reception, PONTIO Level 2
17.30-18.30 Public Lecture: Lecture Theatre PL2, PONTIO Level 2
This lecture is free to attend and open to the public. There is no need to book a seat.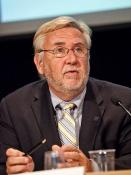 Dr. William Mitsch has been a university professor specialising in wetland and aquatic biogeochemistry and ecological engineering for 44 years at 4 universities in the USA. He is currently Eminent Scholar and Director, Everglades Wetland Research Park, and Juliet C. Sproul Chair for Southwest Florida Habitat Restoration at Florida Gulf Coast University (FGCU) in Naples Florida where he has been since 2012. He received a B.S. in engineering from the University of Notre Dame, and an M.E. in environmental engineering and a Ph.D. in systems ecology under H.T. Odum, both at the University of Florida. Before his current position at FGCU he taught for 26 years as Distinguished Professor of Environmental Science and continues as Founding Director of the Olentangy River Wetland Research Park at The Ohio State University. He also taught at Illinois Institute of Technology in Chicago and University of Louisville prior to the Ohio State University. He currently also holds courtesy faculty appointments at University of South Florida, University of Florida, and The Ohio State University.
In 2004, he was awarded the Stockholm Water Prize by H.M. King Carl XVI Gustaf of Sweden. This award is often referred to as the Nobel Prize for water.
He has also received:
The first Odum Award for Excellence in Ecological Engineering from the American Ecological Engineering Society (AEES) in 2018 in Houston Texas;
the Outstanding Wetland Scientist Award at the 10th INTECOL Wetland Conference in Changshu, China in 2016;
the Ramsar Award for Merit in 2015 from the Ramsar Wetland Convention based in Gland Switzerland;
Doctorate honoris causa, University of Tartu, Estonia in 2010;
an Einstein Professorship in 2010 by the Chinese Academy of Sciences;
the Lifetime Achievement Award from Society of Wetland Scientists in 2007; and
the Theodore M. Sperry Award from the Society for Ecological Restoration in 2005.
He has also been awarded four Fulbright scholarships for research and teaching in his career in Denmark, Botswana, Poland, and, now in 2019, at Bangor University.
Related documents: