New perspectives on everyday wonders as the arts and science come together at Pontio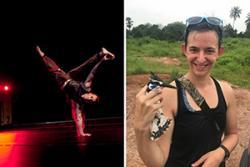 Carnival of FlightInnovative Pontio-led project Synthesis, which brings the arts and science together, will hold a free fun discovery event for the public next Saturday 22 June 2-6pm.
Seasoning your food with some salt or delighting in the elegance of a bird in flight are everyday occurrences that our busy lives leave little time to ponder on. However, two projects commissioned by Pontio through the Synthesis initiative will take a closer look at the natural phenomenon of salt crystallisation and bird flight, and explore both the science behind them and the beauty and art that can be found by delving a little deeper.
'Carnival of Flight', led by musician and movement artist Colin Daimond, avian scientist Dr Kristen Crandell, and multidisciplinary artist Peter Powell is exploring the anatomy, physics and beauty of how birds fly in their natural environments.
'Slow-Time' led by interdisciplinary artist Rachel Rosen and expert in sustainable Chemistry Dr Vera Fitzsimmons-Thoss is looking at the fascinating world of salt crystals and going on a visual journey into the atomic world, taking a look under the microscope and watching as an everyday substance slowly changes.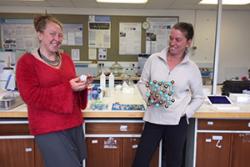 Slow TimeAt the sharing event on Saturday 22 June, both groups will present their projects and provide the public with a chance to learn, discover and delight in science and the beauty and art which exists when we look a little closer. The event will be suitable for all ages.
The Carnival of Flight project will offer multiple activities including constructing models of bird anatomy from recycled materials and taking on the physical challenges of airflow and flocking patterns. The public will be able to take part in 'Carnival of Flight' performances - party-like parades through Pontio with local dancers, puppeteers and "samba" band Bloco Sŵn .
Over at Slow-Time project, there will be more crafting opportunities as the public become 'chemical catalysts' in the crystallisation process by helping make giant crystals that will grow over and encrust part of the Pontio building. The Studio Theatre meanwhile will become a participatory installation for the day, with a display of artefacts from the experimental process that the team have been working on, including salt crystals and salt-encrusted or corroded objects. There will be models, images and projections that explore crystallisation at a variety of scales and time intervals, including a special time-lapse projection of crystals growing. On the hour from 3pm there will be 'science on the sofa' talks, with experts including Alison Lea-Wilson from Halen Môn, Dr Leigh Jones, Lecturer in Chemistry at Bangor University and the project collaborators.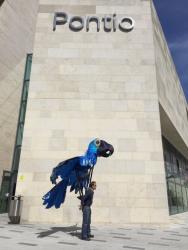 Carnival of Flight outside PontioRachel Rosen from the Slow-Time project said, "As an artist, working on this project about salt crystallisation has been fascinating because it has opened up a whole new way of thinking about materials for me - as a dynamic, changing, growing substance.
"Our work is a live experiment - I like to play with space, light and time - and this combines well with the scientific techniques to investigate crystallisation processes and for finding ways of giving people insight into these. So we hope people enjoy our dimensional adventures!"
Colin Daimond, artistic lead on Carnival of Flight added, "For me this project brings everyday things into a new focus: physics and mechanics, biology and ecology, music and dance, artistry and creativity. I think the day will have something to offer for everyone and we are looking forward to the public contributing the party-atmosphere for the 'Carnival of Flight 'performances."
Synthesis 19: Carnival of Flight and Slow-Time
Saturday 22 June 2-6pm, Pontio, Bangor
Throughout the building
FREE drop-in event no ticket required but space which be limited for certain activities.
See more on www.pontio.co.uk
Publication date: 14 June 2019