Students celebrate Bangor's success at What Uni Awards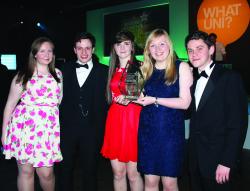 Pictured from left to right are Jane Kelly, Richard Dallison, Hannah Rettie, Emma Dixon and Joel EllisFive students recently joined representatives from Bangor University at the What Uni Student Choice Awards, that saw Bangor named as the best university in the UK for its clubs and societies and ranked third overall for its accommodation.
Bangor was shortlisted for six awards, which were based solely on the independent reviews submitted to the What Uni website. Over 20,000 reviews were posted to the site in a 12-month period.
Student Representatives Hannah Rettie and Emma Dixon from the School of Psychology; Richard Dallison and Jane Kelly from the School of the Environment, Natural Resources and Geography and Joel Ellis from the School of Ocean Sciences were invited to the awards on the basis of their valued contribution to the University, through either the Peer Guide Scheme or University Open Days.
Joel, from High Wycombe, took a well-earned break from exam revision and writing his dissertation to enjoy the trip to London for the ceremony.
He said, "Being based entirely on student reviews, it was great to see that Bangor students think so highly of the University's accommodation, student support and most notably, clubs and societies.
"Chatting with the other students and staff at the Awards, it was great to hear from their perspectives how much work and effort goes into continually improving the university experience for Bangor students."
Richard, 21, from Staffordshire was especially pleased at Bangor's success in the Clubs and Societies category.
"Representing Bangor at the Awards was truly an honour. I was absolutely thrilled to be able to attend the event and see Bangor win, especially in the Clubs and Societies category, as I am involved with a number of clubs and sit on the committee for one society," said Richard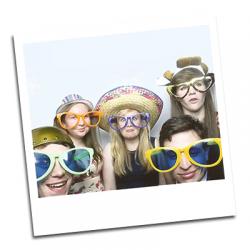 "Bangor is the place to be if you want to get involved in as many clubs and societies as you can manage! There are a whole host of different groups to join, no matter what your interest, and if you can't find what you are looking for then you can easily make your own group. You really can get involved in anything at Bangor as all clubs and societies are free to join!"
22-year-old MSc student Emma Dixon from Leicestershire is one student who is benefiting from living in University accommodation. She said, "I am living in halls now, and I also did in my first year. I really like living in halls - the atmosphere, and community feel, make for a great environment.
"The facilities are great, and constantly being improved, whilst you have the university support network 24/7."
Jane, from Chester, said,"I had a great time at the awards and exploring London beforehand.
Highlights of the evening included having a selfie with Hugh Dennis who was hosting, and of course when Bangor won best Clubs and Societies! It was a great night with staff and students and one I won't forget."
Masters student Hannah decided to stay on at Bangor as she enjoyed her undergraduate degree so much. She said, "Bangor is everything I could have wanted from a university. It's extremely friendly, the courses are of high quality and there are so many opportunities to get involved.
"Bangor definitely deserved an award, it is an excellent university that I would recommend to anyone and I plan on staying here for as long as possible!"
Read our Student Profiles to find out more:
Publication date: 30 April 2015