"Epic novel" reaches Wales Book of the Year 2019 Shortlist
A work described by one contemporary critic as an "epic novel...a river of a story that flows like life itself" has been placed on the shortlist for one of the Wales Book of the Year 2019 awards.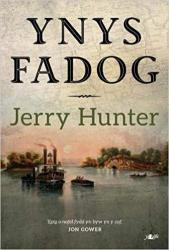 Ynys Fadog by Professor Jerry Hunter, Pro Vice-chancellor and Professor at the School of Welsh and Celtic Studies, tells the story of a Welsh family attempting to create a better life for its members during a time of great upheaval in the still-new America. The 580-page novel sits alongside Llyfr Glas Nebo (Manon Steffan Ros) and Esgyrn (Heiddwen Tomos) in the Fiction category shortlist.
The annual awards are hosted by Llenyddiaeth Cymru / Literature Wales and recognise and celebrate works in both Welsh and English by experienced and new authors alike. All aspects of creative writing and literary criticism appear in three categories in both languages: Poetry, Fiction and Creative Non-Fiction.
The University has been well represented at the awards in recent years. In 2017, Alys Conran, a lecturer at the School of Languages, Literatures and Cultures, won a total of three awards for her first novel, Pidgeon and last year, Professor Peredur Lynch from the School of Welsh and Celtic Studies, was awarded the People's Choice Award for his first volume of poetry, Caeth a Rhydd. Cementing the School of Welsh and Celtic Studies' high regard in the fields of creative writing and contemporary literary criticism, School staff members Professor Gerwyn Wiliams and Professor Angharad Price are both recipients of past Wales Book of the Year awards.
In addition, Professor Hunter is himself a former winner, when his factual volume on the history of Welsh participation and reaction to the American Civil War, Llwch Cenhedloedd, won the Book of the Year award in 2004.
Reacting to the news that his novel had been shortlisted for the Fiction award, Professor Jerry Hunter said:
"It's an honour to reach this short list, especially considering the wealth and lively nature of the literary culture of contemporary Wales."
The winners will be announced at a ceremony at Aberystwyth Arts Centre on Thursday, 20 June.
For more information on the Wales Book of the Year awards, visit: https://www.literaturewales.org/our-projects/wales-book-year/
Publication date: 14 May 2019