Where did Welsh advertisements go?
Decades ago brands such as Guinness, Ovaltine and Marks & Spencer created unique monolingual Welsh advertisements to be placed in magazines and Welsh newspapers. Today they are not advertising even bilingually in Wales. Moreover, there is a dearth of research into bilingual advertising in the Welsh context.
It could be argued that in this technological age, it is easier than ever to advertise in Welsh, or bilingually, but there are not many examples. Following the Welsh football team's success in the 2017 European football Championships, Budweiser created a Welsh social media advertisement and gave away a beer each to fans aged 18 and over.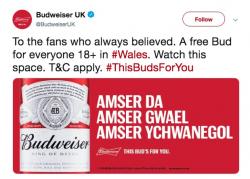 Welsh Budweiser advert

Earlier this year Netflix created a Welsh billboard promoting a series that had been filmed in Wales, creating a buzz on Twitter and Instagram. However, these examples are rare even though the number of Welsh speakers is on the rise and speaking Welsh is becoming 'cool' again (The Guardian, 2019). Research indicates that the language choices made by large organisations in bilingual markets is important, particularly in regards to positioning the product and for developing emotional appeals (Puntoni et al., 2009). Although the effects on consumers are complex, mixed language appeals in bilingual markets are well-received (Krishna and Ahluwalia, 2008).
Welsh M&S advert


What's changed and why does advertising in Welsh no longer appeal to large organisations?
There are a combination of factors which may be contributing to this issue. The cost of bilingual mass advertising will certainly be considered by such firms particularly in the current economic climate. Furthermore, traditional forms of advertising (e.g. full-page advertisements in specialised magazines) are decreasing due to a decline in magazine readership and the new ways in which consumers interact with organisations e.g. via social media. Companies realise that using Welsh can attract more customers and expand their businesses but instead of designing traditional advertisements to be placed in magazines or newspapers, they are more likely to invest in customer-facing bilingualism such as in-store Welsh signage and Welsh speaking staff in order to improve the customer experience and to enable consumers to communicate in their chosen language e.g. Lidl have introduced bilingual signs across all their stores in Wales (Daily Post, 2018). There may be logistical reasons as to why brands are not communicating bilingually via their social media channels e.g. M&S have a single Facebook page and Twitter feed which serves the UK market but there is not a separate Welsh version for the Welsh market. This is something that they could try in the Welsh market considering the low cost of setting up social media pages. In fact, research shows that perceptions of an advertiser's cultural sensitivity leads to greater cognitive ad involvement and persuasion (Bishop and Peterson, 2010). Finally, it might be the case that there are nearly no monolingual Welsh speakers left in Wales -everyone understands English, which was not the case decades ago. However new research shows that digital media enables greater micro targeting among culturally diverse audiences to more accurately represent our society (Sparrer, 2018) -this would be useful for companies to consider when implementing Welsh or bilingual advertising. I therefore call on companies to engage with Welsh when planning future advertising campaigns in Wales.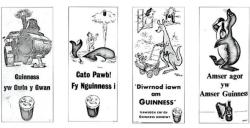 Welsh Netflix advert (L); Welsh Guiness Advert (above)
___
Bishop, M.M. and Peterson, M., (2010). The impact of medium context on bilingual consumers' responses to code-switched advertising. Journal of Advertising, 39(3), pp.55-67.
Daily Post (2018). The big retail brands that say Welsh language is boosting business -some may surprise you. Available here.
Krishna, A. and Ahluwalia, R., (2008). Language choice in advertising to bilinguals: Asymmetric effects for multinationals versus local firms. Journal of Consumer Research, 35(4), pp.692-705.
Puntoni, S., De Langhe, B. and Van Osselaer (2008). Bilingualism and the emotional intensity of advertising language. Journal of Consumer Research, 35, pp.1012-1025.
Sparrer (2018) How audience targeting is changing in the age of digital transformation. Available here.
The Guardian (2019). Cymru am Byth! How speaking Welsh became cool. Available here.
Publication date: 17 June 2019