One World in Bangor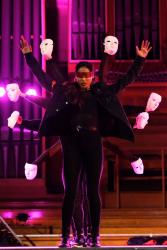 Imagine an evening of traditional instruments, vibrant dances and beautiful voices from all over the World.
Bangor University recently held its annual One World Gala concert, where students and performers from the local community showcased their particular cultures via song, dance and instrumentals.
Twenty performances by students from China, Japan, Singapore, Africa, Vietnam, India, Indonesia, Korea and Wales took part in, what has become, a lively and colourful annual celebration of diversity at Bangor.
The evening, hosted by two international students – Raja Asad from Pakistan and Fiona Jia Ng from Malaysia - included a whole range of different styles, and was opened by the local drumming group Bloco Sŵn. They included street dancing from Korea, a traditional Indian dance, a Welsh Clog dance, a Chinese instrumental involving traditional instruments, Vietnamese dance and a Bollywood themed medley to finish the night with a bang!
The University's main Hall was full with students, staff and members of the local community, all who enjoyed the evening and raised nearly £700 for a local charity. The One World Gala is an annual event organised by the International Student Support Office to celebrate and promote the cultural diversity at Bangor University and the local community. It gives students from all over the world an opportunity to showcase their cultural and traditional identities to other students and residents of Bangor.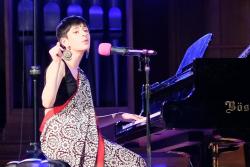 Singer-songwriter Aditi, who performs as Dot and studies Music at Bangor also took part.Angharad Thomas, Director of International Recruitment & Development, said:
"The One World Gala has become an established highlight within the University social calendar. It never fails to demonstrate the talent amongst our international students, and the pride they have in their various national cultures. The range of songs, dances and instrumentals demonstrate the diversity we have here at Bangor University and reminds us how important it is for us to celebrate and embrace each other's cultures particularly at times of turmoil elsewhere in the world.
The Gala has now been running for some 15 years and is becoming bigger and better each year. This reflects the increasing diversity of the students attending Bangor and also the welcome they receive from both the University and city itself. As Aditi, one of the performers from India mentioned "One World Gala 2019 showcased the many different nationalities present at Bangor University through music and dance. It is a platform where we come together in this small corner of Wales to celebrate the colourful and diverse cultures of the world!"
Fiona Jia Ng, a student from Malaysia, who co-hosted the event said "Although I'm just an international student, I was given the opportunity to be involved in an engaging yet incredibly entertaining event! Behind the scenes was amazing because it was my first time, as a host, giving each performer or group the final 'Good luck' cheer before they head onto stage. That feeling doubled when I was the first ones to hug them or congratulate them on a great performance the moment they step down from the stage! This event has definitely made my last year of University the most memorable one with fun-filled stories to share with friends back home!"
Publication date: 20 March 2019