Student Profile: Megan Wyn Owen – Electronic Engineering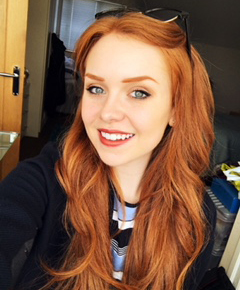 Megan Wyn Owen
Megan Wyn Owen from Anglesey is studying Electronic Engineering.
The course
The course is composed of modules that are taught through lectures, seminars and practicals. The balance between the lectures and lab sessions has ensured that I understand the work as I get to apply what I've learned in lectures in lab practicals. I also like the fact that there are small class sizes so it's easy for us to discuss our work in lectures.
One of the things that attracted me to studying here is that Bangor offers the opportunity to study some modules through the medium of Welsh.
Studying at Bangor
Bangor is a great place to study; there's plenty to do through the various clubs and societies. The University offers support to students through Student Services and the lecturers are always on hand to offer advice if you need any help with your modules or course work.
Work Experience
During the summer break between my first and second year I was fortunate to be offered an internship with the MSparc Science Park. During the work placement the Park was under construction and I worked within the operations and project management team.
I came across the work placement on the University's Employability website, which advertises internship opportunities to students.
Working within a professional engineering operation meant that I dealt with a number of different companies who came to the site to discuss various aspects of the building work. This included discussions with mechanical, electrical and civil engineers.
In addition, important documents were being monitored – for example technical drawings of the building – and these had to be registered weekly. I also went out on site to see the building's construction, which gave me really valuable practical experience. During the placement, I was able to apply the skills I had developed through my course in a real-life workplace environment; skills such as working within a team, problem solving, effective communication and so on.