Student Profile: Elliott Ward – MSc Neuroimaging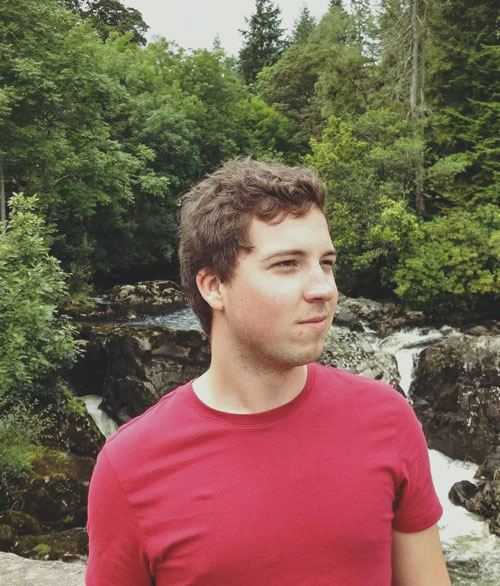 Elliott Ward
Elliott is from Cambridge. He attended Newport Free Grammar School where he studied A levels in Biology, Chemistry, Psychology and Mathematics, before coming to Bangor to study for his undergraduate degree.
What course are you studying at Bangor?
I'm currently studying a Neuroimaging MSc, but I completed my undergraduate in Psychology with Neuropsychology here at Bangor as well.
What made you decide to study this course?
I really enjoyed my psychology A-level so that made me want to continue my studies in the field of psychology. Bangor's course looked to be extremely interesting and intellectually stimulating so I went for it! No regrets!
Why did you decide to study at Bangor?
The scenery and setting are second to none in my opinion. Being able to pop over to some of the amazing beaches on Anglesey is a huge plus too.
Did you come to an Open Day?
I did come to an open day. The people I met were all incredibly helpful and knowledgeable, it really sold it for me!
What is the social life like in Bangor?
You always see people you know around and about which is nice! I'm vice-president of the ukulele society and also play an active role in the sailing club in addition to being part of the golf club as well. The atmosphere in all of these clubs is one of friendliness and I encourage anyone that comes to Bangor to join some societies!
What is it like living in Halls of Residence?
Halls are so much fun. I really enjoyed my time in halls as you'll meet some life-long friends there. It's also a nice stepping stone for some people moving away from home. You don't have to worry about paying bills and such but you have your own space.
What do you think about life in Bangor and the area?
Life in Bangor is really laid back thanks to the amazing setting. There are loads of places to explore in the surrounding area and some incredible walks and views to be had!
What kind of support is there for students?
There is always someone you can email with any kind of problem. There are peer guides who will show you around the town, personal tutors who will know all about your course, not to mention the email buddy system. You never feel like you're alone as there's always someone you can get in contact with!
Has studying at Bangor given you any specific opportunities?
Through taking a module I managed to get a summer internship with the lecturer, which was extremely rewarding.
How did you find welcome week in Bangor? Was it easy to settle in?
Welcome week was great fun! The peer guide system ensured that I got to know the town and nightlife whilst also meeting other people in my halls. I've made many life-long friends in that first week.
What advice would you give to people applying to Bangor?
I would say take the plunge! I've had an amazing time here and really enjoyed my course. I've made so many friends and good contacts that will help me in the years to come after graduating.
What is the highlight/best thing about being a student at Bangor?
I've had some of the best nights out in Bangor, from socials run by the societies and clubs I'm a part of, to birthday parties and summer balls that I've been to.
What have you particularly enjoyed about your course?
I enjoyed conducting my own research the most. It was a significant challenge but I learnt a vast amount about the research process. Additionally I got to test real stroke patients which was a very rewarding experience.
What is the most difficult thing about being a postgraduate student?
The amount of work you are given is a big step up from undergraduate level, but it is manageable if you stay on top of it from the start.
What career do you want to pursue after your studies?
Ideally I'd like to be a neurologist or work for the NHS as a MRI scanner operator
How do you think the course at Bangor will help you?
Through opportunities such as summer internships and excellent modules Bangor has given me an edge over the other competition.
What will you miss most about Bangor when you leave?
The friends I've made.