Student Profile: Kayla Jones – PhD in Welsh History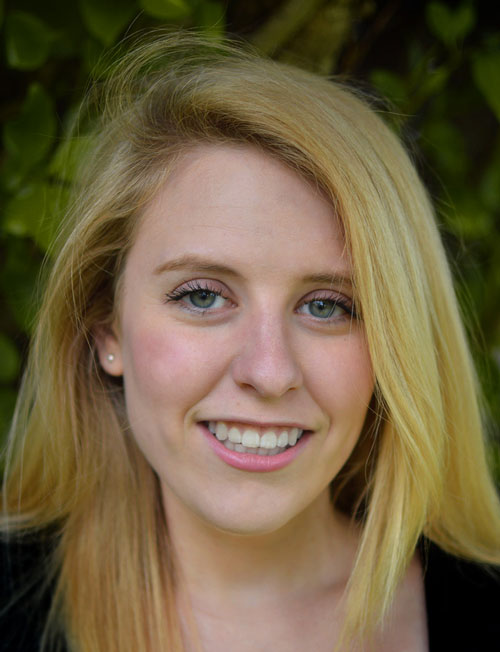 Kayla Jones
Why Bangor?
I am in my second year of a PhD in Welsh history. I've also done my Master's here in Professional Writing, as well as my undergraduate degree in Creative and Professional Writing.
I found out about Bangor University through promotional material from a study abroad event in the US. The more I researched about Bangor, the more I saw how great a fit it was for me! Coming from a more rural, mountainous community in North Carolina, I wanted a university that wasn't in a large city and had beautiful scenery, and boy does Bangor deliver! I had always wanted to study abroad in the UK, so I decided the best way to do it would be to get my undergraduate degree here so I could really get integrated into the local culture.
The International Ambassador Scheme...

I think the Ambassadors Scheme is a great way for current students to share their experiences as an international student to new incoming students as well as prospective ones!  Moving to Bangor was one of the best decisions of my life, and I love being able to share the knowledge I've acquired from my time here. It's important that new students feel like they belong here in Bangor and the International Ambassadors Scheme is such a great way for them to get the extra support and guidance they need from a student who has been in their situation before.
What is the most difficult thing about being an International Student?

The most difficult thing as an international student I think, is the initial culture shock in the first few months of coming to Bangor. Being from the US I thought the cultures would be very similar, but there were a lot of adjustments I had to make and differences I had to get used to when I first moved here! That's why it's so important to get integrated with other students and the local community, because once I did that, I started to feel like I belonged, and Bangor started to feel like my new home.
The Course

I am doing a PhD surrounding the promotion of Welsh narratives of Penrhyn Castle to tourists with the Institute for the Study of Welsh Estates. I love getting to learn about the heritage of the local area, particularly quarrying communities and have loved going to heritage conferences, the National Trust and local museums as a part of my PhD. The best thing about my PhD is being able to research an area I have grown to love so much, and find real-world ways to promote it through my research!
The Lecturers

In my undergraduate and Master's I did my degrees in the School of Music and Media. I got a great, versatile degrees that focused on classes in novel writing, poetry, screenwriting, textual analysis, research methods and journalism. The versatility of my classes were great for my future in academia, as it laid the groundwork for my degree now!  It has prepared me to be able to do the interdisciplinary PhD I am currently pursuing with the History Department in conjunction with the School of Music and Media.  
Clubs and Societies

During my undergraduate degree I was content editor for the student newspaper Seren, as well as being involved with the international café run by the CU. Now I am involved with the Doctoral Society and help out with Enterprise by Design in Pontio Innovation every year!
Bangor and the area

I love getting with other postgrads and talking about my research, preparing for conferences and having explore days to hike, visit a museum or try out a new restaurant in North Wales. 
The best thing about living in Bangor

The best thing about studying at Bangor is being able to be in Wales as a student. I get to meet people from all over the world, really get immersed in the culture of Wales, and learn from professionals in my degree. It's an experience most Americans don't get to have with a short vacation, and I feel so fortunate to get to live in the UK and be a full time student.
I've been in Bangor six years now, so it definitely feels like home to me! I will miss all of the friendships that I have made over the years, as well as student life here at Bangor University. The academic atmosphere here is so lovely to be a part of, and I will miss having that be an integral part of my life!
Support from the University

When I first decided to come to Bangor, it was an extremely quick process. I had four weeks before classes started, and had to get registered, get a visa and figure out finances. The International Office was more than helpful, answering any questions I had and spending hours on the phone helping me get ready to come to the UK for the first time. I never would have got everything together without their help, and never would have come to Wales. Thanks so much!
Advice for new International Students?

Try out a bunch of different societies during Serendipity! I found that is the best way to see exactly what you want to be involved with and what your interests are. There will be all sorts of sports, activities and clubs to try out that you never even knew you liked, and it's a great way to make friends from all over the world!
The Future

In the future I am hoping to work in either the tourism or heritage sector, but I'm not sure where my PhD will lead me after this!