Student Profile: Mitali Soni – MSc Counselling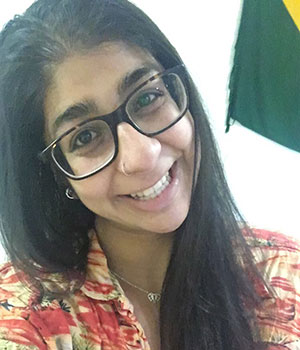 Mitali Soni
What qualifications did you take before you came to Bangor?
Before coming to Bangor, I did my Psychology, Sociology and A Level - Maths. I originally came to Bangor University to do my Undergraduate Degree, Psychology with Clinical and Health and then stayed to do my Master's degree.
What made you decide to study that course?
I decided to study this course because I realised it has been what I always wanted to do, to help people work through their problems and use talking to explore different situations. I stayed in Bangor to study Counselling as I felt like they approached Counselling from different angles and did not focus on one specific technique or approach. Another factor that helped me decide to study this course was that I could tell Fay, the main lecturer and who designed this course, was very passionate about this course and would make the course more interesting than just learning facts and theories.
Why did you decide to study at Bangor?
I decided to study in Bangor because it was very different to London, in the sense that it was very open and calm compared to the busy and constant need to be active in London. The surrounding nature was a massive factor in helping me consider choosing to come to Bangor. One thing I remember from coming here was that you can climb a hill/mountain for sunrise and be on the beach for sunset. The psychology department was another reason I decided to come to Bangor, there was always constant research being done, which would be shared within lectures, meaning it was always updated information being taught to students.
Did you come to an Open Day? What impressed you most?
I came to all possible Bangor Open Days because I was so impressed with how safe the city seemed, especially compared to London life. I was also impressed with how friendly and welcoming everyone seemed to be here and how much they enjoyed living here. When I was here and talked to the students and lecturers, everyone was so passionate about what they were learning/teaching and always had good things to say about other courses, compared to another university that would put down universities to make their course seem better. Both courses appealed to me as they were not strict to what they were teaching and considered all kinds of ways to teach.
What is the social life like in Bangor?
The social life does depend on what kind of person you are but there is something for everyone. If you prefer to just chill with friends and drink slowly/not drink at all there are pubs and bars that let you do that compared to if you like drinking loads and partying with friends you can go drink and club with friends in the two clubs in Bangor. There are also small events that occur in some bars if you like DnB or house music as well as some bars play music/have DJs on weekends. There are over 200 clubs and societies, so there is something for everyone and if there isn't, you are welcome to create one. All clubs and societies are free to join so you are welcome to try as many as you like and enjoy new experiences and meet new people because everyone is so welcoming and accept new people when they join. I am part of Dance and Boxing Clubs and have enjoyed every moment of it. Another key part of social life is exploring the environment around you and it easy to access different places, either by bus, train or car. There are countless beautiful places to go and explore with friends or make friends while you are doing it.
What is it like living in Halls of Residence?
Living in Halls was amazing for me. I had a flat, and neighbouring flat, where most people were similar and social people who liked to drink and go out so we all bonded and got on well. However, living in Halls does mean baring with constant noise from people going out and being open minded about people who are not similar to you.
What do you think about life in Bangor and the surrounding area?
I enjoy life in Bangor as there tends to be something for everyone and I do love the surrounding area, especially the nature. I would say to go explore different places and be able to go anywhere outside of the main Bangor area having a car is quite useful. Most people in Bangor are friendly and welcoming, especially other students.
What kind of support is there for students?
There is so much support here for students, as long as you know where to find it and how to access it. I know there is Student Services who offer weekly talks about how to cope with stress, be resilient during tough times and offer up basic teaching of Mindfulness. If anything happens to do with housing, especially with landlords being difficult, there is a service/department that helps with that. There is also a finance department who help when money becomes an issue or if there is any confusion with how payment works. Those are just a couple of examples of the multiple services that are on offer in Bangor.
How did you find welcome week in Bangor?
I found welcoming week really beneficial social wise as there was always events on in Academi, where everyone went and that people will always help you if you get too drunk. There is also the Christian Society who give out free toast if you are in need of food to sober up a little, need a chat or even need help getting home. The psychology department definitely offered up multiple events to meet other people on the course, and when I started again as a postgraduate student the same events were offered up and even to meet other postgraduate students who had just started. Welcome week is beneficial to the people who involve themselves in it, you get back what you put in. We also got peer guides so you are confused about anything you know there is always someone to talk to, even if you do not have one, the lecturers are always happy to talk and help.
What advice would you give to people applying to Bangor?
Make sure you know what you are applying to here is what you want to do and offers the right kind of opportunities that you are looking for. Another thing I would advise is that this is a university for people who are open to new experiences and do not mind there is not much here like there is in big cities like London or Manchester.
What is the highlight
The highlight of being in Bangor is how much there was on offer and there is always something new to learn or somewhere new to explore. I have been a student in Bangor for five years and I still feel like there is so much more to explore and learn. The people here are a close second, you will never meet the same kind of person and everyone has something to share.
What have you particularly enjoyed about your course?
I have enjoyed my placement the most during my Masters. There have been bumps during my placement but no matter what, I always knew I had someone to turn to and could always help me figure out a solution to the problem. Seeing what I have learnt being put into practise and actually helping people has been one of the main things to keep me going through this course, especially through the difficult times.
What is the most difficult thing about being a postgraduate student?
One of the most difficult parts of being a postgraduate student is losing a lot of my friends that I had made throughout my undergraduate years. It felt like I was starting again from the beginning, which was made easier by joining multiple societies and making new friends through going to their sessions. Another thing that was difficult is realising that a lot of people you meet are younger than you, especially the freshers, which means there is sometimes a difference in priorities and experience in life which can be frustrating when you disagree or feel too old to be hanging out with them or to join in with the constant going out and socialising through drinking to go out.
What career do you want to pursue after your studies?
After my studies in Bangor, I intend to carry on being a counsellor and hopefully, start working with people who suffer from PTSD and help them cope with life.
How do you think the course at Bangor will help you?
My course in Bangor has been super beneficial, as it offers a placement where I can get real life experience as well as being taught a varied of techniques and skills that I can refer back to in the future. In the first year, you learn everything from the basics again, to make sure you understand everything that has been taught, such as communication skills, research skills and how to do research tests, write a research report as well as what the tests mean and how to interpret them. I was quite new to the counselling world when I started so I appreciated that when I encountered new kinds of assignments, such as reflective journals and transcripts. Part of the course helped you learn how to critically analyse research topics as well as approaches and techniques so even if you do not stick with the same topic you can still apply the skills to other problems and situations. Another beneficial part of the course has been the connections I have made through doing this course, within the NHS and from opportunities that this course has given me.
What will you miss most about Bangor when you leave?
I think I will miss the friends I have made throughout my years here the most. Every single person I have met here has made an impact on my life, some for the better, and the way everyone is always open to make friends or do something new. A close second would be how beautiful the surrounding area is and how there is always somewhere to explore or hang out that isn't a bar/club. I will also miss how chill and relaxed most things are here and that the Welsh pride here is so infectious. The amount of Welsh history you can learn whilst being here is infinite and the Welsh people are always so proud to be Welsh and happy to share, sometimes.
Describe Bangor in three words
Chill, beautiful, different