Student Profile: Nenie Eunice Anetekhai – MBA Law and Management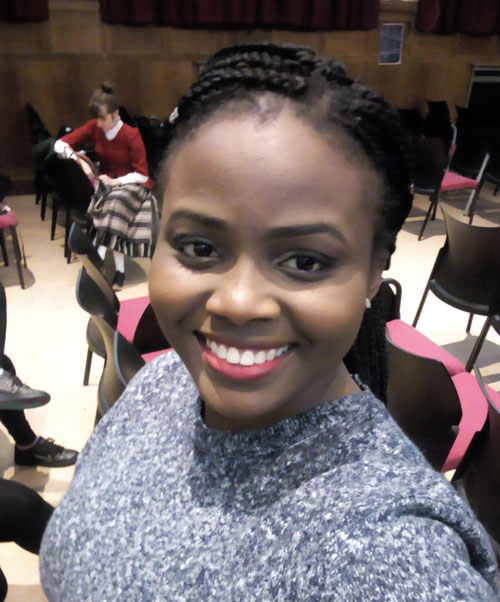 Nenie Eunice Anetekhai
Why Bangor?
Upon research I found that Bangor University has a high standard of teaching and accommodation.
The International Ambassador Scheme …

At a point I was contemplating deferring my offer of admission but with the assistance of the ambassador who I was in contact with and could relate with the challenges I was going through in my country I was able to start School in time. I want to share my enthusiasm and knowledge about the university in general, to help prospective students make the best decision for themselves, support the prospective students through the application process especially those from different backgrounds so that prospective students would get a positive, genuine and whole picture of the Bangor University.
What is the most difficult thing about being an International Student?

The most difficult thing being an international student was finding part-time work but being involved with Bangor University especially the societies helped with that.
The Course

The best thing about my course is that it's so practical I can apply it to my personal life.
The Lecturers

Everyone is encouraged to air their views or confusion on a topic by so doing the Business school is very interactive and classes are active.
Clubs and Societies

I am part of the Afro-Caribbean society, Bangladesh society and the Saudi society.
I enjoy dancing, karaoke singing and volunteering.
Bangor and the area

The town is walkable, the air is clean, the people are warm and willing to help, tap-water is drinkable and there are lots of shopping discounts for students so lifestyle is not expensive.
The best thing about Bangor

The peace and tranquillity.
Support from the University
Employability services helped with preparing me for job applications and interviews (i.e. polishing my c.v.)
My personal tutor was so helpful in assisting with panopto recordings of classes.
Continuing with my education the international office helped with my visa application I didn't have to leave the country and come back, I was able to apply from within the school.
Advice to new International students?

Be open minded and take full advantage of the services Bangor offers especially via the website.
The future

I plan to be a business traveller.