Student Profile: Shailaja Bakshi – PhD in Linguistics and English Language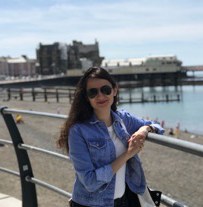 Shailaja Bakshi
Why Bangor University?
I decided to study at Bangor because the Masters course offered by the Linguistics department matched my preference. I then continued to pursue a PhD because of the support and academic outlook provided by my supervisor. Also, because my father is an alumni of Bangor University, he has shared some heart-warming memories with me.
The International Ambassador Scheme
I got to know about this scheme through the International Office at Bangor University. Being an International Ambassador for India gives me a chance to interact with other students and help them with any essential questions regarding Bangor. This scheme helps students in getting to know more about Bangor, their course and getting to know other students.
What is the most difficult thing about being an International Student?
As an International Student myself I miss home sometimes.
The course
The best thing about my course PhD Linguistics is that I get to research a lot in my area and meet other researchers when I go for conferences or seminars to other universities.
The department of Linguistics is research driven and we as students are encouraged to participate in new research and come up with any new ideas. My supervisor Dr. Christopher Shank is very encouraging and motivating when it comes to supervising his students. Also, our department has a very friendly atmosphere where everyone knows each other. It is like a home away from home.
Clubs and Societies
I am the social secretary for the PhD DocSoc Society, which is a newly founded society for all PGRs students at Bangor.
Social Life
I enjoy going to the Craft society's activities, tennis and yoga.
What's the best thing about living in Bangor?
Bangor is a university town and it is easy to go around Bangor. People are friendly, helpful and approachable and one gets a feeling of home. Also, there is scenic beauty around Bangor, which provides a calm and peaceful environment.
What will you miss when you leave?
My friends and the view from my room.
Has the University been supportive during your time here?
The university has been supportive by providing services such as International Office, Student's Union, the Careers department (for advice on career development) and Mental Health Awareness etc.  
Advice for new students
Make as many friends as possible and enjoy your time to the fullest.
Plans for the future
To complete my PhD in the next two years and then apply for a relevant job.