Psychology
MSci
Typical offer
136 UCAS Tariff points
This 'pure psychology' course will allow you to gain a scientific understanding of the basic processes by which we learn, think, feel and adapt to our social conditions.
The course covers the investigation of behaviour from infancy to old age, and deals with the biological, social and individual factors that affect human psychology. This course offers you the widest possible choice of modules, which enables you to tailor your study as your interests develop.
The first year of the course is designed to provide a broad intro-duction to the study of psychology. It is designed to provide a thorough grounding in the subject for those with no Psychology background while allowing those who have already studied Psychology to increase the breadth and depth of their understanding. The second year follows the new British Psychological Society core topics required for the Graduate Basis for Chartered.
Year three completes your BSc with a major research project and an in-depth study of at least four topics selected from the full range of modules that are currently available.
Year 4 completes the MSci degree with an advanced research project and a postgraduate-level research methods module, along with the study of three postgraduate level topics selected from a range of postgraduate-level modules that are currently available.
This psychology degree course is accredited by the British Psychological Society (BPS) and provides eligible graduates with Graduate Basis for Chartered Membership (GBC).
Why choose Bangor University for this course?
Bangor University is the only university in Wales to be awarded Gold in the 2017 Teaching Excellence Framework.
We regularly rank in the top 10 in the annual student survey for student satisfaction and are currently 4th (of 117) in the UK (NSS 2016).
Not only are we highly ranked for our teaching but we have a global reputation for the quality of our research. In the 2014 Research Exercise Framework we ranked in the top 20 in the UK with 89% of our research considered either 'Internationally Excellent' or 'World leading'. This research feeds directly into our undergraduate teaching ensuring a fresh, vibrant learning experience with academics who have an international reputation in their specialist area. We are proud that we are one of only a handful of departments who regularly appear in the top 20 for both student satisfaction and research prowess in a variety of league tables.
We have a cosmopolitan feel and attract staff and students from all over the world to work and study with us. Our global standing is illustrated by the fact that we have been listed as one of the top 150 Psychology Departments in the World by the QS World University Ranking.
Another key aspect of our success is our focus on both the academic and pastoral sides of the student experience and this effort is led by the academics in the Teaching Team who provide high levels of support to our students. We also have an International Student Tutor who is the first port of call for our overseas students.
For more on studying degree courses see our Study at Bangor section.
You will learn through a variety of lectures, seminars, tutorials, and practicals. You will participate in various research projects as a participant giving you an insight into research that will be invaluable when designing your own studies. The School makes extensive use of technology in order to enhance the learning experience, including the use of podcasts and online materials.
An increasing number of our modules can be followed through the medium of Welsh. Students can choose to have a Welsh-speaking Tutor and complete their project in Welsh.
There is continuous assessment throughout each semester and, in many modules, there are end of semester examinations.
In your third year you will carry out a major research project in a psychological area of your own choosing. Depending on your chosen field, you might be involved in research in industry, hospitals, schools, nurseries, or other institutions with which we have strong research links. Your project will be individually supervised by a staff member who is a specialist in the appropriate research field; so you will have the opportunity to exercise your knowledge and skills alongside an expert. Our students regard the project as one of the most challenging but also one of the most rewarding, elements of their course, and the project experience ensures that our graduates have amongst the most highly developed skills of any UK Psychology graduates.
The lecturers are really knowledgeable and they are very helpful in guiding you for assignments and exams. Bangor University also offers different Psychology courses in order to better fit student with specific interests in different fields.

Angel Tan Jia Yiuen
MSc Applied Behaviour Analysis
What will you study on this course?
All modules in the 1st and 2nd years are compulsory, with students free to choose from a large number of modules in the 3rd year and the 4th year if undertaking the MSci degree. Each year, you study a total of 120 credits and the modules build over the years to provide both breadth and depth of understanding. 
Your Research
Your final-year project will be on a clinical or health psychology topic. Recent student projects have addressed topics such as personality, motivation and goals relating to smoking, drinking, physical activity and adherence, and coping with stress, mental and physical illness.
We put great emphasis on developing your research skills. Right from the start of your course, as part of the Research Foundations modules, you'll be taking part in practical sessions in which you design studies, run your own experiments, gather and analyse data and report your findings. You'll also act as a participant in the School's on going research programme, so you gain plenty of first-hand experience of what psychology research is really like. In this way, you'll gradually acquire the skills you need to design and conduct your own research project in the third year. There will be opportunities to conduct research in industry, hospitals, schools, police stations, nurseries and other institutions with which we have strong research links, including our own day care nursery, Tir na N'Og, where children's behaviour and development can be studied first-hand. We also have a wide range of specialist research laboratories including MRI, ERP, TMS, Eye tracking, etc.
Modules for the current academic year
Module listings are for guide purposes only and are subject to change. Find out what our students are currently studying on the Psychology Modules page.
Course content is for guidance purposes only and may be subject to change.
This BSc Psychology is the broadest degree option we offer so is suitable for students who want to follow any of the main psychological professions (clinical psychology, educational psychology, counselling psychology, health psychology, etc). In addition, there are careers open to graduates and postgraduates from any discipline. These include, for example, careers in management training, accountancy, teaching, nursing, social work, the police and the armed forces.  
Employability is a key theme of the Psychology programme you will follow in Bangor and we have embedded a large number of opportunities within our degree to give graduates as strong a CV as possible and equip them with a host of transferable skills that are relevant to both psychology and non-psychology related careers.
The simple fact that you will graduate from an internationally renowned, research intensive Psychology School adds additional value to your degree and improves your employability. This is well illustrated by our top 20 (out of 110) ranking for Graduate Prospects in the the The Guardian Good University
Guide 2017.
Employability and the School of Psychology
As a graduate with a good degree in psychology from Bangor, a variety of careers will be open to you. There are careers for which a psychology degree is essential, and careers for which psychology provides a useful base. In addition, there are careers open to graduates and postgraduates from any discipline. These include, for example, careers in management training, accountancy, teaching, nursing, social work, the police and the armed forces. However, employers are usually looking for general or transferable skills, and a psychology degree arguably provides a unique combination of these.
You can find out much more on our Employability and Psychology page.
Psychology Careers Extravaganza
As part of our efforts to ensure you have an excellent grasp of the career opportunities to you as a Psychology graduate we run an annual careers and employability event.
Video: 2016 Careers Event
Opportunities at Bangor
The University's Careers and Employability Service provides a wide range of resources to help you achieve your graduate ambitions. Developing your personal skills and enhancing your employability while at university is becoming increasingly important in today's job market.
The Bangor Employability Award (BEA)
The Bangor Employability Award enables students to build on their transferable skills through the recognition of activities they become involved in during their university life. Students can gain points towards the award through extra-curricular activities such as volunteering, attending workshops or actively participating in the Students' Union's clubs and societies.
The Award is open to everyone and taking part in the scheme can make a major difference to your performance in the graduate job market.
Internships
Bangor University runs undergraduate and postgraduate internship schemes twice a year, which allow students to work in a professional environment while learning relevant skills and earning money.
Internships offer valuable experience in a professional work place and there is a range of internships you can get involved in.
Student Volunteering
Not only is volunteering worthwhile – it also improves your employability and widens your experience.
The Students' Union has a dedicated Student Volunteering Office (SVB) which currently contributes a total of 600 hours each week, promoting a close relationship between the university and the local community. Find out more on the Student Volunteering pages of the Bangor Student's Union website.
Working while you Study
The JobZone is the University's Student Employment Bureau; they advertise the following opportunities:
Graduate jobs – Local, National and International
Full-time, part time, permanent and temporary jobs
Work experience / internships
Voluntary opportunities
GO Wales opportunties
To access these opportunities you need to register with the Careers and Employability Service.
For 2018 entry:
A typical offer for the MSci is 136 tariff points. Applicants are strongly preferred to have a level 3 qualification* in at least one relevant science (Maths, Biology, Human Biology, Physics, Chemistry, Statistics, Psychology and Science). General Studies and Key Skills are excluded. GCSE Maths and English at C grade are required. *Level 3 qualifications include A levels, BTEC, Access**, Irish Highers, International Baccalaureate, Welsh Baccalaureate, Scottish Advanced Highers and others – for a full list, please refer to the new UCAS tariff at www.ucas.com.
We also welcome applications from mature applicants, individuals with European qualifications and international applicants (subject to minimum English language requirements).
**Usual Access offer is 21 Distinctions, 18 Merits and 6 Passes.
School of Psychology – General Entry Requirements
The School of Psychology operates a flexible admissions policy, taking a holistic and not entirely grade based decision on its applicants. The entry criteria detailed (UCAS Tariff points etc.) above is for guidance purposes only. These grades reflect our typical offer levels but we reserve the right to vary the offer we make based on a candidates individual circumstances. That way we can treat all our applicants with the individual attention they deserve.
Please do not hesitate to contact us by email or phone on 01248 382629 if you would like to discuss your circumstances or an offer you have received in more detail.
General University entry requirements
Here at Bangor, we accept students with a wide range of qualifications and backgrounds. We consider each application individually.
All students need to have good basic skills and the University also values IT and communication skills.
As part of the University's policy we consider applications from prospective disabled students on the same grounds as all other students.
To study a degree, diploma or certificate course you'll be asked for a minimum of UCAS Tariff points. Normally, all GCE A and AS levels, VCEs and Key Skills can be used to calculate your overall points.
For a fuller explanation of the UCAS Tariff Points, please see the UCAS website.
Qualifications currently not in the Tariff Framework:
Access courses and mature entry: We welcome your application if you're taking a recognised Access course. We also consider applications from other older students who can demonstrate the motivation and commitment to study a university programme. Each year we enrol a significant number of mature students. For more help and advice about being a mature student at Bangor, please visit the Study at Bangor site.
International students entry requirements
For information and further detailed guidance on entry requirements for International Students, including the minimum English Language entry requirement, please visit the Entry Requirements by Country pages on the International Education Centre section of our website.
More information
Home/EU students
E-mail for General Admissions: admissions@bangor.ac.uk or write to:
Admissions Office
Bangor University
Gwynedd
LL57 2DG
Telephone: +44 (0)1248 382017
International students
Email to International Education Office: international@bangor.ac.uk or write to
International Education Centre
Bangor University
Gwynedd
LL57 2DG
Telephone: +44 (0) 1248 382028
Need help applying?
If you have any questions about entry requirements, how to apply or the course you are interested in please do not hesitate to contact Bethan Pentith, +44(0)1248 388454 or by emailing psychology@bangor.ac.uk. We look forward to hearing from you.
How to apply through UCAS
Apply online via UCAS
UCAS stands for Universities and Colleges Admissions Service. All university applications are processed through UCAS and then passed on to the universities listed.
Students may apply for a maximum of five courses. For Medicine, Dentistry and Veterinary courses students are only allowed to apply for four courses.
The application form is found on the UCAS website, under 'Apply'.
The early closing date is October 15 for all Oxbridge, Medicine, Dentistry and Veterinary students. The main closing date for all applications is January 15.
Your Personal Statement
Writing your Personal Statement is the part of the application form that requires most work. You are only allowed 47 lines or 500–550 words to explain why you wish to study the course and the skills you have that are essential for university study.
To write a successful personal statement for your UCAS application you must have a good understanding about the course and its content. Remember that you write only one personal statement for your five choices. Make sure that the courses are similar, if not the same, and make sure that you do not mention a specific course or university.
Read our advice on how to draft a winning personal statement or watch our video guide.
After you've applied
You should keep an eye on your application on UCAS 'Track'. Offers from universities will appear on track and you will be able to accept or decline offers.
You can only reply when you have received all your decisions. The types of reply you can make are firm acceptance and insurance acceptance. Usually students reply in early May.
International Student?
If you are an international student, our International Student pages offer further information on applying.
As an international student applying to study one of our undergraduate programmes you can;
Erasmus student?
We receive around 350 exchange students every year from all over the world. 45% of these students come from Europe and the remainder from as far as Singapore, South Korea and Australia.
The University's International Exchanges Office is responsible for welcoming these students.
Confused about your next steps?
Take a look at our Going to University website for information and advice on getting ready for university.
Contact us
Please do not hesitate to contact us by email or phone on 01248 382629 if you would like to discuss your circumstances or an offer you have received in more detail.
Why study at the School of Psychology?
There are many reasons why being a student here is a fantastic experience. Here are just a few of them:
4th in the UK out of a 117 for Student Satisfaction by The National Student Survey (NSS) 2016
Top 20 in UK for graduate employability – Guardian Guide 2017
REF 2014 saw us ranked 17th (of 82) in the UK. If you want to see how other places you applied to have done FindaPhD have a useful tool here (select Psychology, Psychiatry and Neuroscience)
We were one of only two UK Psychology departments that ranked in the top 10 for student satisfaction (NSS) and in the top 20 for research (REF) when these were last done at the same time (2014). A clear demonstration of our rare combination of teaching and research excellence
Last year over 73% of our students graduated with a 1st or 2:1
Ranked within the top 150 Psychology departments world-wide by the 2015 QS World University Rankings
British Psychological Society fully accredited degree programmes
One of the largest UK Schools of Psychology with over 1,200 students and one of the oldest having been established in 1963
Bangor is easily accessible, with a 3 hour car journey taking you to Birmingham, Leeds or even Carlisle
Bangor is a friendly, safe city whose nightlife is dominated by the influx of over 11,000 students
Bangor University was ranked in the global top 100 most international universities by the Times Higher Education magazine in 2015
The Green Metric 2016 World Ranking places Bangor 16th overall (6th in UK) in terms of our 'Green' credentials.
School of Psychology – Undergraduate Study
Studying at Bangor
Rated Gold for teaching
We have been awarded a Gold rating, the highest rating possible, for the standarad of our teaching in the Teaching Excellence Framework (TEF) assessment. The TEF assessment took into account teaching quality, learning environment and student outcomes and learning gain. We were judged to deliver consistently outstanding teaching, learning and outcomes for our students and our teaching is of the highest quality found in the UK.
A top 10 university
The National Student Survey (NSS) results place Bangor amongst the UK's top 10 universities (excluding specialist institutions) for student satisfaction. This reflects the University's focus on overall student experience.
Enjoy a university experience that's amongst the best in the UK
The guaranteed accommodation, student support, low cost of living and stunning location all contribute towards this.
Take advantage of the Bangor Student Experience (ranked in the top 20 in the Times Higher Education Student Experience Survey) with free membership of student clubs and societies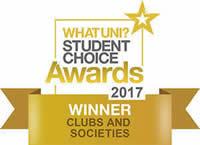 , a new international experience programme and employability award scheme.
Award-winning clubs and societies!
Our clubs and societies have been named the best in the UK at the WhatUni Student Choice Awards 2017.
Unrivalled location
Choose to study in one of the best places in the UK to be a student. Bangor's location – close to the mountains and the sea - has been described as 'the best university setting in the UK'.
Investment in facilities
Benefit from continued investment in facilities and services – with an exciting new Arts and Innovation Centre, new Halls of Residence, and improved sports facilities amongst recent developments.
Guaranteed accommodation
We guarantee accommodation for first year students who apply within the deadline and hold Bangor as a firm choice. Our accommodation has been rated in the Top 5 in the UK at the 2017 WhatUni Student Choice Awards.