Italian and Sport Science
BA (Joint Hons)
Qualification
BA (Joint Hons)
Study mode
Full-time with a year abroad
Typical offer
96–104 UCAS Tariff points
You can study Sport Science as a joint honours degree with Italian (50% Sport Science, 50% Italian).
The Italian part of the course will provide you with advanced skills in the Italian language and a broad range of specialised and detailed insights into the culture, society and history that go with it. The degree has language at the heart of it, with core modules developing the key oral, aural and written skills every year. These modules also foster cultural awareness, which you will need for your year abroad, and later on, for the world of work.
The Sport Science element of these degrees provides students with the intellectual and practical (laboratory/testing) skills that will enable them to ask relevant questions in sport science and apply appropriate research skills. This will further enable them to recognise how they might apply their academic and practical skills to work within the wider community, developing their capabilities through new experiences.
Why choose Bangor University for this course?
Bangor University is the only university in Wales to be awarded Gold in the 2017 Teaching Excellence Framework.
Bangor's School of Modern Languages consistently ranks amongst the highest rated schools in its subject area in the National Student Survey.
Our size means that we offer learning on a human scale, in small classes, where you get to know the staff and your fellow students.
At the same time, our very large and varied range of option modules enables you to tailor your degree to your personal needs.
Some options are taught through the medium of Italian, others through another modern language depending on your choice of subject combination, others through English.
Bangor's Modern Language graduates have a very good track record in gaining employment.
Degree structures are flexible, allowing you to change your degree at the end of year 1 if you wish.
Please also see the Why Bangor? section for Sport Science.
For more on studying degree courses see our Study at Bangor section.
You will have 3-4 hours of language classes each week plus classes in your other chosen modules. Tuition is mainly in small groups and there are few formal lectures.
Assessment involves coursework and written and oral examinations. You will also complete a dissertation as part of your degree.
Here, the students can enjoy high-quality teaching and get full support from all kinds of departments when they come across problems.

Chanjing Liu
PhD in Translation Studies
What will you study on this course?
In addition to the language the syllabus includes a broad range of stimulating options. First-year modules include an introduction to the history, culture, cinema and literatures of Europe. Second- and final-year options offer increasing levels of specialisation as you progress. The current syllabus includes modules on modern Italian history and culture, contemporary Italian cinema, representation and reality of Italian mafias.
Residence Abroad:
The third year is spent entirely in Italy. Your main options are:
A paid work placement as an English assistant in schools.
Study at one of our Erasmus partner universities, which include Università di Udine (Gorizia), Università di Trieste, Università di Milano La Cattolica, IULM (Milano), Università di Torino, Università di Bologna, Università di Firenze, Università di Cagliari (Sardenia), Università di Perugia.
An approved work placement.
In each case you also begin researching your dissertation topic whilst abroad, which counts towards your Bangor degree.
For the Sport Science part of this Joint Honours degree, you will undertake modules related to Research Skills, Project and Dissertation. Over the three years you study compulsory School of Sport, Health and Exercise Science modules:
Human Physiology
Psychomotor Behaviour
Sport and Exercise Physiology
Plus a choice of optional modules from:
Motor Control and Learning
Applied Sport Psychology
Perception and Action
Stress and Performance
Group Dynamics
Applied Sport Science of Elite Performance
Environmental Physiology – Extremes
Exercise for Clinical Populations
Modules for the current academic year
Module listings are for guide purposes only and are subject to change. Find out what our students are currently studying on the Italian and Sport Science Modules page.
Course content is for guidance purposes only and may be subject to change.
Employability and the School of Modern Languages and Cultures
Studying Modern Languages opens the door to a wide variety of careers. Many Bangor Modern Languages graduates have, of course, gone into teaching and translating, but just as many have embarked upon successful careers in the civil service, business and commerce, industry and the media. The skills you learn whilst studying languages – cultural awareness, communication, accuracy, planning and logical analysis – are valued highly by employers from all sectors of the economy.
Opportunities at Bangor
The University's Careers and Employability Service provides a wide range of resources to help you achieve your graduate ambitions. Developing your personal skills and enhancing your employability while at university is becoming increasingly important in today's job market.
The Bangor Employability Award (BEA)
The Bangor Employability Award enables students to build on their transferable skills through the recognition of activities they become involved in during their university life. Students can gain points towards the award through extra-curricular activities such as volunteering, attending workshops or actively participating in the Students' Union's clubs and societies.
The Award is open to everyone and taking part in the scheme can make a major difference to your performance in the graduate job market.
Internships
Bangor University runs undergraduate and postgraduate internship schemes twice a year, which allow students to work in a professional environment while learning relevant skills and earning money.
Internships offer valuable experience in a professional work place and there is a range of internships you can get involved in.
Student Volunteering
Not only is volunteering worthwhile – it also improves your employability and widens your experience.
The Students' Union has a dedicated Student Volunteering Office (SVB) which currently contributes a total of 600 hours each week, promoting a close relationship between the university and the local community. Find out more on the Student Volunteering pages of the Bangor Student's Union website.
Working while you Study
The JobZone is the University's Student Employment Bureau; they advertise the following opportunities:
Graduate jobs – Local, National and International
Full-time, part time, permanent and temporary jobs
Work experience / internships
Voluntary opportunities
GO Wales opportunties
To access these opportunities you need to register with the Careers and Employability Service.
The entry requirements below are the School of Modern Languages requirements. Please also check with the School of Sport, Health and Exercise Sciences for any additional requirements.
For 2018 entry:
104-96 tariff points from a level 3 qualificatio. These include A levels, BTEC, Access, Irish Highers, International Baccalaureate, Welsh Baccalaureate, Scottish Advanced Highers and others – for a full list, please refer to the new UCAS tariff at www.ucas.com.
We also welcome applications from mature applicants, individuals with European qualifications and international applicants (subject to minimum English language requirements – see Information for International Students section in the introductory pages of this prospectus).
For 2017 entry (new UCAS tariff for courses starting in September 2017):
104-96 tariff points from a level 3 qualificatio. These include A levels, BTEC, Access, Irish Highers, International Baccalaureate, Welsh Baccalaureate, Scottish Advanced Highers and others – for a full list, please refer to the new UCAS tariff at www.ucas.com.
We also welcome applications from mature applicants, individuals with European qualifications and international applicants (subject to minimum English language requirements – see Information for International Students section in the introductory pages of this prospectus).
General University entry requirements
We accept students with a wide range of qualifications and backgrounds and consider each application individually.
All students need to have good basic skills and the University also values IT and communication skills.
As part of the University's policy we consider applications from prospective disabled students on the same grounds as all other students.
To study a degree, diploma or certificate course you'll be asked for a minimum of UCAS Tariff points. For a fuller explanation of the UCAS Tariff Points, please see www.ucas.com
We also consider applications from mature students who can demonstrate the motivation and commitment to study a university programme. Each year we enrol a significant number of mature students. For more help and advice about being a mature student at Bangor, please visit the Study at Bangor site.
Specific entry requirements can be seen on the individual course pages.
EU and International students' entry requirements
For information and further detailed guidance on entry requirements for EU and International Students, including the minimum English Language entry requirement, please visit the Entry Requirements by Country pages. International applicants can also visit the International Education Centre section of our website for further details.
More information
Home/EU students and International UCAS applicants
E-mail for General Admissions: admissions@bangor.ac.uk or write to:
Admissions Office
Bangor University
Gwynedd
LL57 2TF
Telephone: +44 (0)1248 383717 
International students (non-UCAS applicants)
Email to International Admissions: internationaladmissions@bangor.ac.uk or write to
Admissions Office
Bangor University
Gwynedd
LL57 2TF
Telephone: +44 (0) 1248 382028
How to apply through UCAS
Apply online via UCAS
UCAS stands for Universities and Colleges Admissions Service. All university applications are processed through UCAS and then passed on to the universities listed.
Students may apply for a maximum of five courses. For Medicine, Dentistry and Veterinary courses students are only allowed to apply for four courses.
The application form is found on the UCAS website, under 'Apply'.
The early closing date is October 15 for all Oxbridge, Medicine, Dentistry and Veterinary students. The main closing date for all applications is January 15.
Your Personal Statement
Writing your Personal Statement is the part of the application form that requires most work. You are only allowed 47 lines or 500–550 words to explain why you wish to study the course and the skills you have that are essential for university study.
To write a successful personal statement for your UCAS application you must have a good understanding about the course and its content. Remember that you write only one personal statement for your five choices. Make sure that the courses are similar, if not the same, and make sure that you do not mention a specific course or university.
Read our advice on how to draft a winning personal statement or watch our video guide.
After you've applied
You should keep an eye on your application on UCAS 'Track'. Offers from universities will appear on track and you will be able to accept or decline offers.
You can only reply when you have received all your decisions. The types of reply you can make are firm acceptance and insurance acceptance. Usually students reply in early May.
International Student?
If you are an international student, our International Student pages offer further information on applying.
As an international student applying to study one of our undergraduate programmes you can;
Erasmus student?
We receive around 350 exchange students every year from all over the world. 45% of these students come from Europe and the remainder from as far as Singapore, South Korea and Australia.
The University's International Exchanges Office is responsible for welcoming these students.
Confused about your next steps?
Take a look at our Going to University website for information and advice on getting ready for university.
Contact us
Ms Ros James
School of Modern Languages and Cultures
Tel: 01248 382130
E-mail: modlang@bangor.ac.uk
www.bangor.ac.uk/ml
Why study at the School of Modern Languages and Cultures?
Modern Languages and Cultures at Bangor means learning on a human scale; we offer facilities equal or superior to those found in many larger universities, but in an environment where everybody – students and staff – gets to know each other quickly, and where there's always someone to turn to. You are never "just a name" in our department.
Why Bangor?
Four of our students talk about why they chose to study at Bangor and their experiences whilst here.
My Year Abroad
Our students discuss their year abroad, preparation for it and the support they received.
Have a look at more videos and student profiles – or better still, come and visit us at one of our Open Days, where you will have the opportunity to speak to staff and students alike.
Why study at the School of Sport, Health and Exercise Sciences?
The School of Sport, Health and Exercise Sciences (SSHES) has been providing high calibre undergraduate degrees for over 30 years and taught postgraduate (Masters) degrees since 2000. It also has a well-established and successful record of accomplishment in research training with more than 70 PhDs awarded in the last 20 years. We are regularly rated in the Top 10 for both Student Satisfaction and Research Quality.
Top 10 in the UK (Guardian University Guide 2016)
1st in Wales/7th in the UK for Research in Sport Science with 100% of research either world leading or at an international level (Research Excellence Framework, 2014)
96% of students are satisfied with their course (Guardian University Guide 2016)
Other Key Facts:
On average 90% of SHES students are either working or in further study within six months of graduating (UniStats2015).
Professional bodies such as accredit school staff: the British Association of Sport and Exercise Sciences (BASES); British Psychological Society (BPS); and the Health Care Professionals Council (HCPC).
British Association of Sport and Exercise Sciences (BASES) accredited physiology labs.
Quality Research
The School is research-led and staff have well-established national and international reputations in sport and exercise psychology, motor control and learning, and clinical exercise physiology. In the most recent Research Excellence Framework (REF 2014), results confirmed our now well-established reputation for the highest quality research, with 100% of our work judged as either world leading or at an international level. This placed us 7th in the UK amongst Sport Science Schools. Research areas covered a broad range of areas including Enhanced Coaching and Training practices in sport, health, and military practices worldwide and research into public policy on sport and physical activity (in conjunction with Cardiff Metropolitan University). The School has a particular track record of supporting research into clinical exercise rehabilitation and disease prevention, elite performance as well as talent identification and development.
All our research underpins the unique (to the region) provision of academic and professional skills development for students from undergraduate to PhD level.
Teaching and Learning
Our excellence in research feeds directly into our degree programmes, so all our teaching is backed up by this outstanding, world-class research. As a student at Bangor, you will get brilliant teaching from people who are leaders in your field of study.
Our emphasis on excellence is translated into the results of our graduates and we are in the UK Top 10 for Sport Science students gaining 1st class hons degrees.
SSHES offers a wide range of degree courses from undergraduate BSc/MSci courses to postgraduate MSc and research-orientated MRes programmes. Undergraduate degrees range from programmes that specialise in performance and health sciences to degrees with a greater vocational element e.g. BSc in Sports Science (Outdoor Activities). The vocational element of our Outdoor Activities degree is further strengthened by input and delivery by external partners (Surf-Lines and the Conway Centre). Our newly instigated MSci courses allow you to enrol as an undergraduate and after four years (if successfully passing all years with the required grades), graduate with a Masters level qualification.
Student Experience
As a School we value the overall experience of our students highly and pride ourselves on having a caring and student centred approach. We aim to provide a challenging and enjoyable learning environment that is welcoming and supportive of all our students.
With an annual intake of approximately 150 undergraduates, we are much smaller than many other university sport science schools. Everyone knows each other and we pride ourselves in being one of the friendliest departments in a friendly university. We have an 'open door' policy so that you can sign up for tutorials with any of our staff.
The School is ranked second in the UK for student satisfaction with a GPA of score 4.47 (Sport Science Schools – Complete University Guide 2016) and is consistently placed as one of the top Sport Science Schools in the UK.
International Experience Year
All of our undergraduate programmes include an option to take an 'International Experience Year'. The four-year study abroad route provides students with an opportunity to study overseas during the second or third year of the degree programme. On successful completion of the four-year degree, students graduate 'with international experience' added to their degree title. Check out the School's International information pages or Bangor University's Studying Abroad pages for more details.
Facilities and Equipment
The School is based in a beautiful Grade II listed building on the banks of the Menai Strait and is well resourced for the scientific study of sport, health and exercise. It has an extensive range of laboratories containing state of the art equipment for sport and exercise physiology, psychology, motor control and learning, and motion analysis. Facilities include:
exercise physiology laboratories, equipped with an Ultrasound, Isokinetic Dynamometer, and exercise performance and rehabilitation equipment;
an environmental chamber – to allow testing in extreme temperature, humidity and oxygen deprivation conditions;
a hypoxia chamber – to allow testing at simulated altitude conditions;
dual-energy x-ray absorptiometry (DEXA) scanners – to provide measurements of tissue composition. Bangor University's was the first UK Sports Science School to install a DEXA and use it for research;
a motion analysis laboratory – equipped with a state-of–the-art 12 camera passive marker system to analyse whole body movement, and an active marker system to allow for analysis of smaller, part body movements;
psychology testing laboratories including a driving simulation and observation/interview suite;
biochemistry and cell biology labs.
Studying at Bangor
Rated Gold for teaching
We have been awarded a Gold rating, the highest rating possible, for the standarad of our teaching in the Teaching Excellence Framework (TEF) assessment. The TEF assessment took into account teaching quality, learning environment and student outcomes and learning gain. We were judged to deliver consistently outstanding teaching, learning and outcomes for our students and our teaching is of the highest quality found in the UK.
A top 10 university
The National Student Survey (NSS) results place Bangor amongst the UK's top 10 universities (excluding specialist institutions) for student satisfaction. This reflects the University's focus on overall student experience.
Enjoy a university experience that's amongst the best in the UK
The guaranteed accommodation, student support, low cost of living and stunning location all contribute towards this.
Take advantage of the Bangor Student Experience (ranked in the top 20 in the Times Higher Education Student Experience Survey 2017) with free membership of student clubs and societies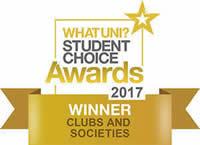 , a new international experience programme and employability award scheme.
Award-winning clubs and societies!
Our clubs and societies have been named the best in the UK at the WhatUni Student Choice Awards 2017.
Unrivalled location
Choose to study in one of the best places in the UK to be a student. Bangor's location – close to the mountains and the sea - has been described as 'the best university setting in the UK'.
Investment in facilities
Benefit from continued investment in facilities and services – with an exciting new Arts and Innovation Centre, new Halls of Residence, and improved sports facilities amongst recent developments.
Guaranteed accommodation
We guarantee accommodation for first year students who apply within the deadline and hold Bangor as a firm choice. Our accommodation has been rated in the Top 5 in the UK at the 2017 WhatUni Student Choice Awards.