Iraqi PhD students complete unique enhanced training programme
Bangor Law School is honoured to host a large contingent of PhD students from Iraq. In order to support our students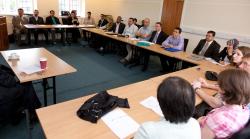 Students and staff listen intently to Professor Ala Hamoudimore effectively, the School recently organised a special event for Iraqi PhD students to present their work before an audience of fellow Iraqi students, academic staff and an invited expert, Professor Haider Ala Hamoudi, of the Law School at Pittsburgh University. Professor Ala Hamoudi studied at the Massachusetts Institute of Technology, where he was both a member of the Physics Honor Society, Sigma Pi Sigma, and a Burchard Scholar for Excellence in the Humanities and Social Sciences. In 1996, Professor Hamoudi received his J.D. from Columbia Law School, where he was a Harlan Fiske Stone Scholar. After graduating, he served as a law clerk to the Honorable Constance Baker Motley in the Southern District of New York and then worked as an Associate at the law firm of Debevoise & Plimpton until 2003. In 2003 and 2004, Professor Hamoudi served as a legal advisor to the Finance Committee of the Iraq Governing Council, as well as a Program Manager for a project managed by the International Human Rights Law Institute of DePaul University School of Law to improve legal education in Iraq. Professor Ala Hamoudi's scholarship focuses on Middle Eastern and Islamic Law, particularly, but not exclusively, as it pertains to matters of commerce. Professor Hamoudi spent most of 2009 in Baghdad advising the Constitutional Review Committee of the Iraqi legislature, responsible for developing critical amendments to the Iraq Constitution deemed necessary for Iraqi national reconciliation, on behalf of the United States Embassy in Baghdad. He also advised on other key pieces of legislation, including a hydrocarbons law, a revenue management law, and an antitrust law.
Professor Ala Hamoudi participated actively in the discussions, along with staff and students. The next day, he had individual consultations with our students, discussing their work at length. According to the event organiser, Professor Suzannah Linton, "we recognised that our students themselves are an invaluable resource in terms of Iraqi law, and we decided to draw from that to organise a focused session in an academic setting, where our Iraqi students were able to debate their work with their peers and staff. It was a really enlightening event, and the feedback from fellow students is that they found it extremely helpful. Having Professor Ala Hamoudi there was an enormous boost and inspiration. He was able to bring a wonderful blend of substantive legal expertise in US and Iraqi law, and also a practical approach gleaned from years of professional practice around the world, including in Iraq. I believe that our students benefitted enormously from this event, and we will be able to provide enhanced support to them as they move forward with their studies".
Student Murad Al-Bayati commented: "it was a great event, and I can say confidently that it has had many advantages. The feedback that I received from Professor Ala Hamoudi, Professor Cahill and Mr. Mark Hyland was very helpful to me, and I will certainly take advantage of the feedback that I received to enhance my research work". Another student, Sinan Al-Bidery, added "I found this programme a great opportunity for me to present my thesis proposal and receive important feedback from School staff and an Iraqi expert, which has encouraged and will support me in my studies".
"The students were challenged by Dr Hamoudi to demonstrate the uniqueness of their theses and how it could fill a gap in existing knowledge" noted Professor Dermot Cahill, Head of School. They found this approach very useful as it allows them focus their work, make it more incisive, and drives them to separate the regular from the exceptional. We were delighted to welcome Dr Hamoudi: his familiarity with Iraq and the legal challenges it faces across many domains will no doubt enrich the students' experience. I am looking forward to the publication of his constitutional law work later this year".
Publication date: 11 July 2012