"I was brought up in Stourbridge in the West Midlands and studied sciences at A level. I took a year off after school and, inspired by National Geographic magazine and particularly the features by Jacques Cousteau, I decided to study a degree in Marine Biology. Bangor University was the natural choice! I graduated from Bangor with a 2:1 Hons and decided to follow the path of photojournalism, producing images and stories for magazines.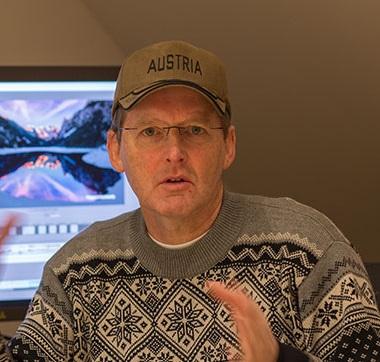 I knew I could not expect any magazine to take me seriously until I had some publications to my name so I spent a long time trying to decide what would make a good first story. A University friend had gone to do Voluntary Service Overseas and had been shipped away to the middle of the Pacific to work on a seaweed plantation on Christmas Island. I turned my research to this island and discovered a rich history associated with the atom bomb tests undertaken in the late 50's. My subject had picked me!  Little did I know that on top of the historical interest this island provided it also had some of the most spectacular scenery in the world when seen from the air.
The story was a great success and was syndicated worldwide after its initial launch in The Geran and French editions of GEO Magazine.  I followed it with features on Japan and the London Butterfly House. By now, my filing cabinet was bulging with clippings and half-constructed story ideas and I was in a position where I could approach magazines with my ideas and be taken seriously. I was commissioned by Dutch magazine 'Avenue' to do a special feature on Taiwan in 1984. I then returned to the UK to shoot an image-based technical story on Engelhard Industries, a company that specialized in extracting precious metals from electronic scrap. This story was later to win a World Press Photo award.
In 1985 I worked on a series image-based features on cutting edge science developments for The Observer Magazine. This was the first time I had really used my university degree as a direct aid to my work. It turned out to be very useful when talking to research scientists to have a basic understanding of the principles which often helped me to arrive at the key images I would need to tell the story.
​
By 1986 I had built up a good portfolio, had worked on stories all over the world, had a World Press Photo award and had been published in most of the major image based magazines around the world, but I had no money! I started earning additional income from annual report photography for companies such as Glaxo, ICI, Zeneca, Fisons, Bibby, Inchcape, Ready Mixed Concrete, Genzyme and PHLS.
​
By 2000 I decided my Stock stills career had come to an end so I turned to motion footage, specifically timelapse (where the motion is speeded up to a lesser or greater extent for playback). I became the pioneer of digital timelapse production for ImageBank Film and soon set myself the task of covering as many of the world's major cities in timelapse as I could.
​
In 2014 I started developing my HyperZoom™ technique. This has now reached a level where it enables the production of seamless virtual timelapse flights joining real-time, time-lapse, hyperlapse and every other filming technique into a single journey with no visible cuts between the locations. My footage regularly appears on television all over the world as well as in major Hollywood movies.
I have now retired from commercial film production and live on Lake Hallstatt in the Austrian Alps with my wife Liz.
If you would like to see some of my work from the last 30 years, my e-book 'My Life Through The Lens' is free to download here." And my website is here.