A shared bond of success – mother and daughter graduate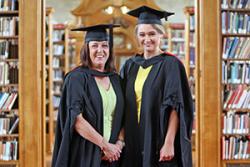 Bethan and Martha DobsonOne family's link with the PJ Hall stage will continue this year, as a mother and daughter from Garndolbenmaen graduate during the week and in doing so, follow in the footsteps of the eldest daughter and sister who graduated from the University in 2016.
This year, Bethan Lloyd Dobson will be graduating with a first class degree in Welsh and her daughter, Martha, will receive her degree after three years following a Childhood Studies course at the School of Education. The eldest daughter, Margiad, also graduated with a degree in Welsh two years ago.
However, stepping on to the stage to receive her degree will not be a completely alien experience for Bethan, as she has already participated in several ceremonies over the years by addressing the audience with a reading of the late Professor Gwyn Thomas' special poem, 'Y Coleg ar y Bryn / The College on a Hill '. In addition to this, she is also well used to performing on stages, having been awarded the Llwyd o'r Bryn Memorial Prize for recital at the Eryri National Eisteddfod in 2005.
While she had always been interested in Welsh literature, deciding to study at the School of Welsh in Bangor was a very natural thing for Bethan. She said:
"It was the high standard of the School of Welsh that attracted me there in the first place and I would like to thank all the staff for their support. I feel very privileged to have been in such a quality School - which is also extremely homely and welcoming."
Bethan took full advantage of her time at the University, enrolling on an internship programme at the University's Archives and utilising her eisteddfod background by leading a male singing party comprised of the students and staff of the School of Welsh for the Gerdd Dant Festival.
According to Martha, her mother's decision to leave her job as a senior assistant at Ysgol Groeslon had initially left her and her older sister feeling a little uncertain, but as the three of them turned to university life, the uncertainty soon disappeared and in its place came some practical advantages:
"It was great to be able to use a free 'mam taxi' when travelling to and from the University! But joking aside, the experience of studying side-by-side with a mum has been extremely pleasant. I have benefited a lot from my time in Bangor, I'm proud of having succeeded and certainly made friends for life."
The family contact with the University will continue following the graduation week this year however, as Bethan will return to Bangor in September to embark on an MA in Creative Writing at the School of Welsh.
Publication date: 19 July 2018