Academic career beckons Emma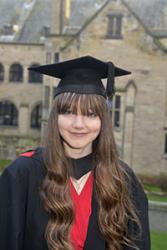 Emma HughesA local Bangor University student is well on her way to a career in academia after receiving her postgraduate degree at the winter graduation ceremony recently.
Former Ysgol Tryfan pupil, Emma Sara Hughes, 22, from Bangor graduated with a MRes Management with Accounting degree from the Bangor Business School.
When Emma was studying for her A-levels she had no idea which career path to follow. She decided to study a degree at Bangor Business School because she knew that the first year would cover a variety of different business aspects, such as, marketing, management, accounting, finance and economics. In her second year, she decided to specialise in Management and Accounting for the remainder of her degree.
About her time at Bangor, Emma explained:
"When writing my dissertation in the final year of my degree, I decided that I wanted to pursue a career in academia and hopefully become a lecturer. I chose to study a 'Masters by Research' because it involved me working independently on a particular research project, with two supervisors there to guide me. I focused on the recent London Underground dispute over the closing of ticket offices and the introduction of a 24-hour night tube. I analysed how the dispute was depicted by the employers, the RMT union and the media.
"I was lucky enough to attend and present my work at three conferences during my postgraduate degree. This developed my confidence to present in front of an audience and it also gave me the opportunity to meet other people who work in my field of research.
"Throughout my undergraduate degree and my postgraduate degree I worked part-time as a receptionist at Bangor University's Sports Centre, Canolfan Brailsford. It was difficult to juggle both, but it is possible if you manage your time efficiently.
"Even though I enjoyed completing my postgraduate degree it was challenging, so it is a great feeling now that I have finished. I have just started studying my PhD at Bangor Business School, so that will keep me busy for another three years! But after that I hope to stay in academia and pursue a career in research and lecturing."
Publication date: 17 December 2015