Adiós Bangor, Hola Seville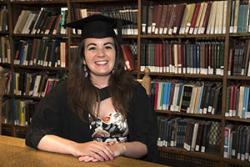 Elise DaviesA Bangor University student who has set her sights on running her own language school in Spain is a step closer to realising her dream after graduating this week.
Elise Davies, 22, from Bristol graduated with a BA honours degree in French and Spanish after four years of "endless opportunities and experiences."
Having always enjoyed travelling, meeting new people, and seeing different cultures and lifestyles, Elise developed a desire to be able to integrate with people from around the world in their native languages. Her main interests have been travelling and writing experiential accounts of her experiences in order to promote the importance of travel and knowledge of foreign cultures. She has been a Student Language Ambassador for Routes into Languages Cymru and has had the opportunity to share her blogs and experiences with local secondary school children in order to inspire them to go down the same path.
Elise said: "I chose to study at Bangor as after visiting on an open day, the city and the University seemed absolutely perfect for me. I was very taken with the friendly atmosphere in the School of Modern Languages and Cultures and also the University as a whole. I also really liked the city as I like small communities where it is easy to get to know lots of people and feel really at home, which I definitely felt in Bangor. Bangor's location close to Snowdonia and the Menai Straits put it well and truly above and beyond all of the other places that I visited on open days. I can honestly say that my decision to study here was the best decision that I have made in my whole life.
"Throughout my time in Bangor I took part in a number of interesting projects. During my first year, I went to Peru for six weeks as a volunteer English Teaching Assistant. I worked for five weeks in a school called Colegio San Agustin in the city of Iquitos which is located in the Peruvian Amazon. I also spent some time volunteering in a shanty town in the Peruvian Capital City, Lima, and have since been involved in a charity fundraising project to help raise money to build a day care centre for children in this area so that they can receive a better education and their parents can find more job opportunities.
"A year later, I went on to complete my compulsory year abroad during which I worked as a receptionist/waitress in a youth hostel in Grenoble, France. I also worked as an intern in a housing company in Seville in the south of Spain. During the summers on each end of the year abroad, I studied and assisted with the teaching of French in a French language summer school in Cannes. All of these international experiences have been incredibly valuable, not only to improve my language skills, but also for developing my self confidence, adaptability, and cultural awareness.
"In addition to my international experiences, I have had many exciting opportunities in Bangor. These include, volunteering as a Peer Guide and the Head Peer Guide, working as a Student Language Ambassador and a Course Representative, taking on positions on the committee of the Modern Languages Society, organising and running my own charity concert to raise money for the Peruvian Shanty Town in which I volunteered in 2013, and also completing the Bangor Employability Award.
"Although I have been very busy throughout my studies, I am extremely happy that I took on all of these roles and opportunities. I believe that they have enabled me to put into practice the practical skills that are needed in many work places, and they have also given me an incredibly all round.
"Having come to Bangor as a shy person, the students and lecturers have all played a hugely important part in my life. They have helped me to get to know myself and have also led me to understand where my strengths lie. I can honestly say that without the encouragement and support of my friends and lecturers in Bangor, I probably would not have got involved with nearly as many activities outside of my studies.
"My ambition for the future is to set up and run my own language school in Spain as I have always been interested in promoting the importance of language learning and teaching languages. I strongly believe that my experiences in Bangor have given me the skills and qualities that I need to become an entrepreneur and to manage the running of a school. I will be spending next year working as an English Language Assistant in a Secondary School in Seville, southern Spain, and then I hope to complete a TEFL qualification in order to give me the knowledge of teaching English as a foreign language that I will need to provide language education of the highest standards."
Publication date: 12 July 2016