Applying to Bangor was a First-Class decision for Rebecca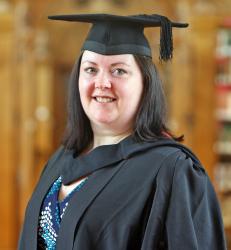 Rebecca HolianScrolling through her social media feed, Rebecca Holian, saw a life changing post that enabled her dream to come true.
Irish born, mother of three, Rebecca Holian, 41, from Abergele, responded to a post about Clearing at Bangor University, two years later, she graduates this week with a Law LLB (Hons) 2-year degree.
At 18, Rebecca secured a place at university to study law, but after finding out that she was pregnant, her plans had to change. As life progressed, she forged a very happy career in finance but a sense of something being left unfinished still played on the back of her mind.
Rebecca explains: "After I was accepted to University, I went to the Clearing open day with my four-year-old daughter in tow. Before going I remember feeling quite unsure about it all. My concerns were mainly about becoming a mature student as it had been so long since I had done anything academically. I also had to decide whether it was the right move financially, and most importantly if I would be able to balance my studies with looking after my family whilst working part-time. I was put instantly at ease when I met Chaynee Hodgetts, who is a lecturer but also went on to become my personal tutor. It was so relaxed we even sat in the gardens and made daisy chains with my daughter.
"As a mature student I wanted to try and integrate myself into University life (as much as time would allow) so I became a course representative in my first year and also joined the Street Law society, which is a community-based project that aims to improve the legal understanding of local people. I was very fortunate to be part of the 'Best Group' for that year and also for being awarded 'Best Public Speaker'.
"I worked part-time throughout my time at University; at one point I even had two part-time jobs. Sometimes it was quite difficult juggling work with my studies and still being there for my three children, but my family have been great and really helped out.
"My time at Bangor University has been incredible. All the lecturers are very knowledgeable and approachable and there is no divide between students just based on their age. Everyone is very open and friendly. The class sizes are relatively small too, so it all feels that much more personal.
"I was also very fortunate to be chosen to work with Watkins & Gunn Solicitors to produce witness statements for the Infected Blood Inquiry. It was an amazing experience and I met some wonderful families whom had been affected by these issues. I felt privileged that they were able to discuss some of the most devasting periods of their lives with me.
"Although it has been hard work, because the modules have all been so fascinating, it has never felt like a chore to me. My advice to anyone thinking of studying for a Law Degree here at Bangor is to just go for it, you won't regret it. It has been an amazing experience and I will miss my time here.
"I am overjoyed to have received a first-class degree and to have accomplished something I set out to achieve all those years ago. I am looking forward to the future especially starting in my new role as Claims Manager at Betsi Cadwaladr University Health Board."
Publication date: 19 July 2019