Award-winning student on her way to a PhD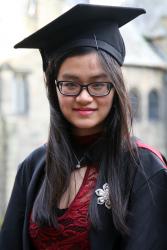 Ho Phuong Lan DangHard work and determination has paid off for a Bangor University student who graduates this week, scooping an award in the process.
Ho Phuong Lan Dang, 23, from Tra Bong Khoi Nghia, Quang Ngai Town, Vietnam graduated with an MA in Finance with distinction from Bangor Business School. Lan was also awarded Best Dissertation in Finance in her final year.
Excited about the prospect of graduating, Lan said:
"Graduation is a day to feel happy and proud. All my hard work has finally paid off. I have graduated and I am so proud.
About Bangor Lan said:
"The University is known for its leading research quality, especially in Finance. Moreover, Bangor has always been placed top in student satisfaction and gave me a wonderful student experience.
"My time in Bangor has been a memorable experience. Especially conquering Snowdon, it was a wonderful journey.
"At the beginning, I encountered many difficulties and unfamiliarity in adapting to the new learning environment. However, I have received fantastic support from lecturers, staff and students.
About her hopes for the future:
"I will complete the doctoral program and improve my research skills. I would like to dedicate myself to research and strive to become a qualified lecturer in the distant future. I will also like to contribute to social projects at Bangor University.
"I would to say a sincere thank you to all my lecturers, staff and friends at Bangor, I would not have been successful without you.
Lan has received a Bangor Business School studentship and is studying for a PhD in Finance her research specialising in banking.
Publication date: 15 December 2016