Bangor Breeds Creativity – Graduate's dissertation to be broadcast on BBC Radio Stoke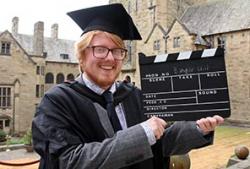 Finnian ShardlowA talented Bangor University student graduates this week having not only achieved the award for best overall academic performance in the School of Creative Studies and Media, his dissertation project, a satirical radio show with an accompanying critique, was such outstanding work, it will be broadcast on BBC local radio in September.
Former Thistley Hough High School and Stoke-on-Trent College student Finnian Shardlow, 21, from Stoke-on-Trent graduated with a BA Media Studies degree after three years of hard work.
About his student experience, Finnian said: "It's a fantastic feeling to be graduating. It's this one day which represents the last three years of blood, sweat and tears. I'm very proud, not just for me, but for the whole School. I've collaborated with many of the people I'll be graduating alongside and I know some of the cracking work that's been produced. So it'll be great to finally see everyone get the reward that all this graft has been about.
"I chose to study at Bangor because of the freedom of the course. The degrees in this School are unique and are not replicated anywhere else. My course allowed me to virtually craft my own degree and indulge in a wide range of subject areas. I could naturally gravitate towards what I enjoy doing, which was comedy writing. There's usually an element of creative flexibility with most assignments and my dissertation was literally an idea I dreamt up. You pretty much claim ownership over the entire experience. Surely that's what University is all about.
"The Students' Union has lots of clubs and societies that are free to join and throughout my three years, I was involved with Seren, the student newspaper and Storm FM student radio. This has been an invaluable experience as they both work to real deadlines and real regulations. Far from being societies, they're more or less simulations of the industry. I've had press passes to gigs and festivals off the back of Seren, interviewed some of my favourite artists and taken photos in an actual photography pit alongside people with far superior cameras than me.
"The staff at Bangor are incredible. There is a genuine care for the work you do here, and they want the best outcome for the student. I've never once felt neglected by the lecturers in anyway. They are always attentive to any queries and there are no issues in terms of getting into contact. It's a personal touch that makes a huge difference.
"An adaptation of my dissertation, Culture My Arts, will be broadcasting on BBC Radio Stoke in September and December, so I'm hoping that nobody immediately switches the radio off. I'm also hoping that someone will be foolish enough to pay for more of it."
Finnian will be returning to Bangor in September to study for a Master's degree, as well as editing Seren newspaper and continuing with his work on Storm FM.
Publication date: 16 July 2018