Bangor graduate lands place on the Teach First programme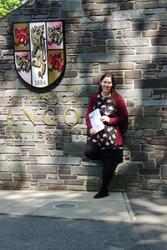 Emma JewkesThree years of hard work have paid off for a Bangor University English Literature student who graduates this week.
Emma Jewkes, 36, from Chesterfield, Derbyshire graduates with a BA English Literature with Journalism degree and will soon be relocating to Weymouth to start work as a Primary school teacher on the Teach First programme.
Ecstatic to be graduating, Emma said: "It still feels a bit unreal to even consider the fact that I have a degree. As a mature learner, I never even imagined that university or even graduating were things I could do. So to think that now, I'm a university graduate is just a bit crazy really. It's been incredibly hard work but totally worth it.
I left school with no GCSE's. I then went into catering and ended up being a chef for 15 years. However, it was never a job I loved or felt inspired by. Therefore, in 2013, I decided to walk away from it. I completed a GCSE in Mathematics, English and Science and an Access to Higher Education course at Chesterfield College, working nights in a care home to support myself, before applying to Bangor University."
About Bangor, Emma said: "The moment I decided to come to Bangor was when I was driving along the A55. To the left was a mountain with a small castle and to the right was the sea. The sun was shining and I just felt that Bangor would become my home for the next 3 years."
Emma had many fantastic experiences during her time as a student, she said: "I was a member of Seren, the student newspaper. I spent the first year as Lifestyle Editor before moving up to Deputy Editor in my second year. Then I became Editor-in-Chief in my final year which was a huge honour for me. I was lucky enough to get the chance to interview Phillip Pullman, author of the 'His Dark Materials' trilogy of books. For an aspiring writer such as myself, it was a huge honour to get the opportunity to pick his brain. That was definitely a major highlight!
About the future, Emma said: "I just want to make a difference and be a great teacher."
Publication date: 19 July 2018