Better late than never!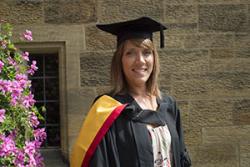 Lowri MereridLowri Mererid from Botwnnog is graduating with a First Class degree from the School of Welsh
Lowri is a familiar face to many in Wales, after spending nearly twenty years singing as a member of Bryn Fon a'r Band, as well as acting.
The mother of two children who are 9 and 18 years old has excelled in her degree course in Welsh, as she had received the highest mark in her year for her dissertation as well as winning the Drama Medal at the Anglesey Eisteddfod for a drama composed as part of her degree course.
Lowri said, "I had been toying with the idea of ​​studying for a degree for several years, especially after my daughter Efa started school full time. Bangor University was the natural choice for me as it was close enough to travel back and forth, but I'm so glad that I studied at Bangor as the School of Welsh was fantastic!"
"About two years before starting university, I had begun to suffer from panic and anxiety attacks. It is a complex issue to deal with, but I was determined not to let the condition beat me. During the first year I had the opportunity to follow a course of CBT therapy through the University, which has been a great help.
"The support and encouragement I received from the School of Welsh has also been amazing. My intention in coming to study at Bangor was to gain the confidence and training to write creatively, and that's certainly happened! I'm considering returning to study for an MA within a year, but in the meantime I will be carrying on with my writing."
Publication date: 14 July 2015