Bright Future after a difficult childhood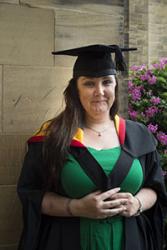 Louise BrintonA student has overcome extreme childhood hardships to graduate from Bangor University with a degree in Psychology with Clinical and Health Psychology.
32 year old Liverpudlian Louise Brinton, now settled in north Wales, now hopes to eventually become a Clinical Psychologist and to help others.
Childhood experiences meant Louise faced a range of very difficult issues in her adolescent years. Louise now hopes to put these behind her, and to use her education as well as her own experience and insights, to good use to help others.
Having been in and out of care, at the age of 7 her mother abandoned Louise and her four siblings. It was a week before they were found and rescued. While two pairs of siblings were fostered together, Louise was sent to be fostered alone.
Of those experiences, Louise says: "I had an incredibly difficult time – what I experienced as a child led me to go 'off the rails' in my adolescence. I left school at 14 -prior to this, I had been a quiet pupil, and I excelled in my school work. I was badly bullied in school and did not have any friends. I started drinking and using drugs and became pregnant when I was 15."
"I joined a therapy group which ultimately turned my life around."
The decision to move to north Wales was another turning point for Louise.
"I had a very difficult time in Liverpool and moving away was an opportunity to rebuild my life. That was in 2010. That September, I impulsively enrolled on the New Directions course at Coleg Menai, which led me to the Access Course and then Bangor University. Although I didn't come to Wales to specifically go to University, I'm so happy I did. I always wanted to go to University and I believed I would never make it."
"I was not able to care for my son, although I had maintained contact with him. He is currently staying with me and my partner and was at my graduation ceremony to see me graduate."
Having graduated, Louise says: "I can't believe I finally made it! I'm excited but also incredibly sad to be leaving Bangor University."
Louise has found the whole university experience an eye-opener to another world for her.
She says: "University, for me, wasn't just about academia. The social learning experience for me has been an amazing journey. I'm so honoured to have shared such experiences with people I believe will be friends for life."
She adds: "My highlights were simple things, like sitting around the table at the School of Psychology and just being accepted for being 'me'. There was no expectation from me and because no-one knew my history, I could become the person I wanted to be, not the person society had predicted me to be."
She says this, having been told by a doctor, some time ago, that she would never be fit for work due to the emotional and mental health problems she faced at the time.
She adds: "I'm just so grateful to have been part of such a fantastic department. There is no hierarchy in the school of psychology; the lecturers and other staff members treat us as equals. The pastoral support is also fantastic - I cannot praise the school enough and believe they should be recognised for the incredible work they do."
Louise has already begun to help others. While at University she volunteered for the Bangor branch of the Samaritans for over 3 years, and has also volunteered for Childline.
Louise has been accepted on a part time Masters degree in Counselling at a local FE College and will be looking for relevant employment.
She says: "This is scary as I have never really worked before. I also need to secure funding for the Masters, or ensure my employment will cover the cost. I would love to become a registered clinical psychologist. I know what I have overcome and I believe no-one should be 'written off' in the manner I was."
Publication date: 13 July 2015