Canadian student a step closer to a career in international human rights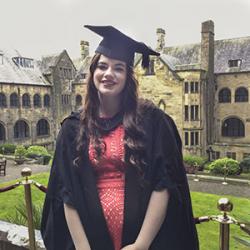 Elizabeth StrangeA Canadian international student will now pursue her dream of "changing the world" after graduating from Bangor University this week.
Elizabeth Megan Strange, 23, from Medicine Hat, Alberta, Canada, graduated with a LLB Law degree after an incredibly busy and successful two years of study.
After high school, Elizabeth studied human rights and women's studies at St Thomas University in Fredericton, New Brunswick. She was actively involved in the students' union and volunteered with a rape crisis helpline and also cofounded a sorority. She met her Bangor born husband, Andrew Thomson, whilst he was with the British Army and stationed at their Medicine Hat base in 2012, and they married in 2014.
Elizabeth said: "I have dreamed of attending law school since I was a little girl, and it's a dream come true to be able to say I hold a law degree.
"When it came to selecting a university, I started with a list of all UK universities, then assessed them based on a number of factors such as having a beautiful campus, one that I felt like I was in a fairy tale; small class sizes with a real connection to the lecturers; and affordable tuition and living costs. I found all of this at Bangor University.
"During my studies, I jumped between jobs and I found the work-study balance a struggle at some occasions, but it helped me connect with the locals and to feel at home in north Wales.
"In my first year, I was selected to compete at the Telders International Moot Court Competition, a prestigious competition for public international law hosted at The Hague. As a team, we ranked highly, and individually I was ranked the 6th best orator out of 96 competitors from across Europe.
"In my second year, I was selected to compete at the Jean Pictet International Humanitarian Law Competition at Evian les Bains, France. The competition was judged and planned by world leading international humanitarian law practitioners. We had the opportunity to tour the International Committee of the Red Cross headquarters in Geneva and meet its president, and we made friends with people around the world which was an invaluable experience. In the feedback, our team was commended for embodying the spirit of Jean Pictet through our cultural sensitivity and negotiation skills.
"My dissertation was part of a research project from the Wales Observatory for Children's Rights. The topic was child and adolescent mental health services in Wales analysed from a human rights perspective. My research looked into consent law, distribution of services, and cooperation between service providers, all analysed from a feminist and human rights based approach. My research, as well as the research of others from the observatory, will contribute to the Welsh Assembly's audit of the child and adolescent mental health services.
"In my final year I was the president of the University's Law Society and was actively involved with the Students' Union. I was a senator on the Student Representative Council, and proposed numerous policies for the improvement of the University, and a delegate for the National Union of Students Wales conferences. For 2016-2017, I have been elected as a member of the executive committee for the National Union of Students Wales.
"Being an international student there was the obvious cultural shock, but also the homesickness. I've not been home since moving to Wales in August 2014, and in that time my mother was diagnosed with cancer and my grandfather died. My husband and I were evicted from our house just weeks before Christmas 2014 and my husband lost his job in February 2016. Needless to say, it has been a struggle, but it's been worth it, as I've always stated - I am not pursuing a job title or a salary, I am pursuing a dream of changing the world."
Elizabeth returns to Bangor University's Law School in September to study an LLM in International Human Rights and Criminal Law. Afterwards, she hopes to pursue a career in international human rights, international humanitarian law, or international feminism.
Related Stories
Bangor Law School: top 10 mooters in Europe
Publication date: 11 July 2016