Catrin is a 'First Class' mum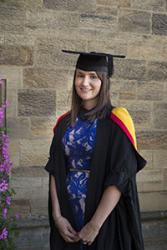 Catrin Nia HughesAn inspirational young mum who juggled a degree with childcare and a part-time job is celebrating this week as she graduates from Bangor University with First Class Honours.
Catrin Nia Hughes, from Llangefni, was working as an assistant manager for Spar when she decided the time was right for a career change.
Keen to improve her prospects in a competitive job market, Catrin started a full-time degree in Administration and Management in September 2012, just weeks after daughter Lois's first birthday.
Despite the obvious challenges of studying whilst raising a young child, Catrin has not only attained the best possible result in her degree, but has already achieved her ambition of landing a new job.
"I went to university to start a better career for myself, so I'm thrilled to have secured a job with Conwy County Council", says the 28-year-old, who started working for the council's Human Resources department in May. She describes her time at Bangor University as "busy, enjoyable and valuable".
"Combining the responsibilities of raising a child with working, attending lecturers and completing course work was challenging, but passing the first year with good marks proved that I could do it."
The former Ysgol David Hughes pupil says that a good support network has been key to her success. "My entire family helped me with Lois, looking after her when I needed to attend lectures, go to work or concentrate on an assignment, for example.
"I had constant support from Mr David James, my personal tutor, who has been a friendly face since my first interview with him. I also made two very good friends, Naomi and Ffion. I was anxious about starting university as a mature student, but I made friends straight away, one of whom was, like me, a mature student with children."
Her advice to parents who may be thinking of applying to university is to "go for it. It will be three years of hard work, but it will be worth it in the end. Treat the course like a job: think of it as a career choice, and do as much of the work as possible during traditional working hours.
"The Easter, summer and Christmas holidays gave me the chance to spend extra time with my daughter that I wouldn't have had had I still been working full-time", she adds.
Eager to develop her new career further, Catrin will start a CIPD qualification in Human Resources at Coleg Llandrillo in September. "Gaining a degree has widened my options for the future. I hope this is the start of a successful new career path for me."
Publication date: 15 July 2015