Ceri goes the extra 400 miles for Dementia and Alzheimer's Care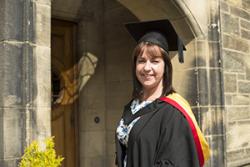 A Bangor University student who graduates this week has developed such a passion for her subject that she cycled across Vietnam in its name.
Ceri Williams, from Holywell, undertook the 400 mile, 12 day challenge to raise funds for the Alzheimer's Society, having juggled her studies in Health & Social Care and Criminology & Criminal Justice with working for a health care agency.
Over the past four and a half years, her job has brought her into close contact with a number of patients who are in the early or more developed stages of dementia, and this insight has left a lasting impression on her. "This is an illness that has taken my interest because even though the person is with us physically, they have mentally gone away", comments the former Deeside College student. "They have no recognition of their life and memories, which is very sad and frustrating for both the sufferer and their family."
Ceri's degree provided her with the perfect opportunity to further explore a subject which had become close to her heart, and she chose it as the basis for her final-year dissertation. "I wanted to look at the restrictions faced by carers and care settings, such as funding and training, when providing adequate care to dementia sufferers", says the 28-year-old. "I also compared private and council care settings to see which provides 'better' care and to determine whether they face the same restrictions in funding and staff training."
While her degree fed her interest in her day job, working for a care agency also benefitted her academic pursuits: "doing this job whilst studying has benefitted me in many ways, as it has enabled me to observe how people live and the difficulties faced by people with physical and mental disabilities", she says. "It has opened my mind to many situations and taught me to be more understanding of the difficulties people face on a daily basis. This has benefitted my studies as it relates directly to the topics covered."
But Ceri's interest wasn't confined to the classroom, and in 2013 she decided that she wanted to increase awareness of the Alzheimer's Society and to raise funds for the cause. She organised several events in her home town of Holywell, raising £5,000 for the charity, and the pinnacle of these was a 400 mile, 12 day bike ride across Vietnam. Despite some low points, such as having no familiar faces to comfort her at the end of a gruelling day of cycling, she recalls it as the best experience she's ever had. "I met some fantastic people from all walks of life and made many friends. My fellow fundraisers were all representing different causes, and we all encouraged and motivated each other. The high point was seeing the real Vietnam, not just the bits made for tourists. I cycled through vast amounts of countryside and got to see how the locals really live, and I got to discover a truly amazing country by bike – the best way to do it."
In October, Ceri will continue with her fundraising mission by running the Dublin Marathon in aid of the Alzheimer's Society. Around the same time, she will also begin studying a two-year MA in Social Work at Bangor University. "I have enjoyed studying, and it was my best decision to return to education after taking a few years out to work", says Ceri, who hopes to become a Social Worker. "Leaving it until I was a bit older means that I have appreciated the experience more than I would have done having just left sixth form. I also have a clearer idea of the type of career I want to pursue."
View a short interview with Ceri.
Publication date: 10 July 2014