Child rights volunteer graduates with pride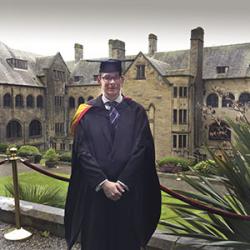 Christian James-WatkinsA Bangor University student with a passion for children's rights graduated this week.
The former Coleg Gwent SU President, Christian James-Watkins, 23, from Pontllanfraith, Blackwood, graduated with an LLB Law degree.
Christian said: "It feels amazing knowing that all my hard work over the years has paid off, but at the same time it's sad that so many things are coming to an end and I will no longer be a Bangor student.
"During college I became involved with Save the Children, helping to interview new staff, review their processes and procedures. This work led to being trained to help teach professionals about their obligations under The United Nations Convention on the Rights of the Child, and contribute to the NGO report of the UK's obligations to the UN Committee on the Rights of the Child.
"I have volunteered for the National Youth Advocacy Service. Initially it was expressing my views on the services they provide, including advertising, but this soon expanded as they trained me to be one of the UKs first peer advocates. Not long after receiving training I moved to Bangor where I was asked to sit on the Welsh and English boards reviewing advocacy, sit on the interview panel for Flintshire's Director of Social Services and helped to produce videos.
"The main focus of my work in recent years has been to prevent media from having unfettered access to the Family Courts. So far I have been anonymous in two reports, spoken at the last two annual conferences for the Association of Lawyers for Children, and met with Sir James Munby a number of times. Perhaps unsurprisingly this was also the subject for my dissertation.
"I am about to undertake my LPC and Masters at the University of Law, so I would like to receive a good grade, obtain a training contract, and become a solicitor specialising in children's rights."
Publication date: 11 July 2016