Entrepreneurial international student graduates
A Bangor University international student graduated this week after jam packed year of study and entrepreneurial activities.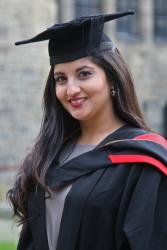 Suita Manuela Díaz NolascoSuita Manuela Díaz Nolasco, from El Progreso, Honduras was awarded an MA Business and Marketing postgraduate degree. She graduated with a BA Communications and Advertising degree from the Universidad Tecnológica Centroamericana in 2013 and then gained professional experience working within the coffee industry and the communications field. Suita was also involved in volunteering projects focused on the development of Honduras. In 2015 she was awarded a Chevening Scholarship to study for a Masters degree in the UK.
Suita said: "I found Bangor University listed in the Chevening Program. When selecting Bangor, I read about the different support programs that they offer to international students including English support, help with finding accommodation and entrepreneurship programs.
"While studying I got involved with many extracurricular activities including being a facilitator for the "Enterprise by Design" scheme, a multidisciplinary challenge which brings students from Business, Electronic Engineering, Product Design and Psychology backgrounds together to work on a real-life business challenge."
Suita also received a £500 Santander Universities Excellence in Enterprise scholarship for showing exceptional commitment to developing her enterprise skills for her work involving her Honduran coffee social enterprise.
During her time in the UK, Suita had the opportunity to attend various important trade shows related to the coffee industry. She also participated in the Green Coffee Intermediate Level course, part of the Speciality Coffee Association of Europe Coffee Diploma held in Edinburgh. Part of this trip was sponsored through the Santander Universities, of which Bangor University is part of its network.
Suita said: "I had a great overall experience. I had lots of support from University staff, local people and my landlords. I've met many people who are now my friends. My whole experience was unique. The personalised support that I have received has made my learning experience a most memorable one that I will cherish for ever."
"During my year at Bangor I have learned about many new things related to coffee. I have a commitment to my country, and my hopes for the future is to be involved with helping Honduras become a safe home for its people and I am very grateful for all the opportunities that I have been given."
Suita has now began an internship at IKAWA coffee in London. She is currently working on a project that has a combination of different elements including marketing, logistics, and market research in the coffee industry.
Related stories:
Santander Universities Enterprise Scholarships Awarded to Bangor University Students
Entrepreneurial students selected for Santander Universities competition
Publication date: 15 December 2016