Entrepreneurial mum graduates with pride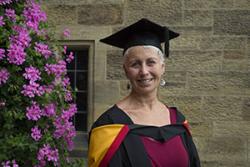 Local mum of three, Carol Mead, achieved a lifetime achievement and graduated with a BA in English Literature and Creative Writing at Bangor University this week.
Carol, who has lived on Anglesey for most of her life, overcame many personal obstacles whilst studying part-time with the School of Lifelong Learning. The energetic entrepreneur also juggled her studies around running her own successful personal training business, Able Fitness. She has been running Able Fitness since 2007, but has been in the fitness industry for many years and has a large portfolio of fitness qualifications.
Carol explained: "In 2009 I self-published my own poetry book for children - 'Sea Things'. I enjoyed writing it so much, it made me realise that studying for a degree in Creative Writing could benefit me for any future writing projects or changes in career. As an avid bookworm, the English Literature & Creative Writing part-time option offered at the School of Lifelong Learning seemed the perfect opportunity for me to achieve this.
"Running my own business and working full time was difficult at times, but the support I received from the School of Lifelong Learning helped me achieve my goal. It was great meeting and getting to know like-minded and interesting people.
"From Monday through to Friday, I concentrated on my business, which as you can imagine, takes up a lot of hours as my clients like to train mornings and evenings. I would then set aside study time at the weekends. If I had any spare hours during the day, I could be found with my head buried in a book or researching poets and authors at the University Library."
Pleased with her 2:1 degree, Carol hopes to continue her studies in the future and progress on a MA programme.
Publication date: 14 July 2015