Exciting career in marketing ahead for Timur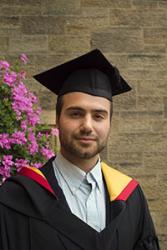 Timur PavlivskiyA thirst for knowledge saw a Russian-born student work hard to graduate from Bangor University this week.
Timur Pavlivskiy, 22, from Saint-Petersburg, Russia graduated with a joint LLB Law and Business degree after studying at the School of Law and Bangor Business School.
Having arrived in the UK five years ago, Timur spent a year in Manchester and then he studied for a foundation degree at the University of Wales, Newport before he came to Bangor.
On choosing to study at Bangor University and his student experience, Timur said: "I chose to study at Bangor University as it seemed like a great place to study. I love the outdoors and with the ocean within earshot, a great athletic union and good academic credentials, these were are all things that I considered before applying.
"Bangor University offers free membership to its clubs and societies and I was part of the American Football Club, the Chess Society and the Surf Team. As part of the Surf Team I went on many trips around the UK and once to Morocco.
"During my first year I participated in the Street Law project, which is a community-based, student-run project that aims to improve legal understanding amongst local people. Through the project, I learned a lot about the laws and regulations applicable to everyday situations like consumer protection rights and it helped me develop my presentation skills and increased my confidence.
"I took part in the Chartered Institute of Marketing's 'Brolio/The Pitch' which is an apprentice-style challenge to provide students with the opportunity to develop vital skills and experience which took place in Cardiff Bay. Students in teams of three from around Wales are presented with a business problem, which they then have a few weeks to figure out the solution and pitch the solution to the panel of industry experts.
"This was a very valuable experience. I really enjoyed developing solutions with a team and applying my theoretical knowledge to the real problem. It gave me a valuable insight into what a real business presentations looks like and what is expected of you. From start to finish, this project made me feel like a professional. The whole experience was electrifying, and even though our team didn't reach the final, I was glad to find out that some of the changes we propose to the National Trust were implemented a few months after our pitch.

"During my second year, I took part in the Enterprise by Design project where I became part of a multidisciplinary team and worked on solving a business problem. It was really good to be able to interact with staff and students from different subject areas and get six different angles of the same problem. The best thing about this project is that there is a cash prize for the winner. It was a unique, essential experience that is unattainable in a normal academic setting which made this experience so valuable.
"I am excited and a bit sad to be graduating. I love Wales and I hate to leave because a lot my friends are still here. But I am also excited about the freedom and a sense of opportunity that lies ahead. I want to spend the next few years developing a deep expertise in marketing and I hope to establish my own business before I reach 30. I am also hoping to leverage my marketing skills to support non-profits and conservation societies."
Timur is currently working for TFI Monday, a digital marketing agency located in Llanfairfechan, north Wales.
Publication date: 16 July 2015