Family tradition of studying at Bangor continues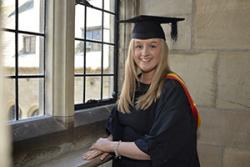 Awel EvansA Meirionnydd student will continue the family tradition of a teaching career after graduating from Bangor University this week.
Awel Pyrs Evans, 21, of Llanfachreth, Dolgellau received a BA Primary Education (QTS) degree after studying at the University's School of Education.
Having been raised in a rural area and with an agricultural background, she studied Welsh, History and Psychology A-levels at Coleg Meirion-Dwyfor before going on to University.
Awel said: "It feels quite strange and exciting to be graduating, the three brilliant years I had at Bangor University have flown by.
"I went to Bangor University because I knew that I wanted to be a teacher from a very young age, and there is a strong link between my family and Bangor.
"The school experiences are integral to the course, I was very fortunate that the schools I attended were always very welcoming and I enjoyed every minute with the pupils."
Awel's roots are in Porthmadog, where some of her family were students at the Normal College, which integrated with Bangor University in 1996.
Awel's great aunt, Elizabeth Roberts, studied to be a teacher at the Normal College between 1947 and 1949. She went on to teach at Liverpool, Capel Curig and Bryncroes on the Lleyn Peninsula.
Whilst NFU Cymru's Eifionydd Secretary, Awel's grandfather, Elis Evans, decided he wanted a career change, and at 40 years old, enrolled on a teachers' training course at the Normal College in 1971. Soon after competing his training in 1973, he started his first teaching post at Ysgol Eifion Wyn in Porthmadog, and remained there for 24 years until his retirement.
Elis' eldest daughter, Bethan Llewellyn Jones, went to the Normal College between 1975 and 1978. Bethan then went on to teach at Ysgol y Graig, Llangefni, and is still there enjoying her work.
In 2013, Awel's cousin, Bethan's daughter, Swyn Llewelyn Jones, graduated with a BA Primary Education (QTS) degree. Swyn is now a teacher at the Ysgol yr Hendre, Caernarfon.
Since leaving the University, Awel has worked at Ysgol Machreth, Llanfachreth, and will take up her first teaching post as a qualified teacher at Ysgol Brithdir in September and hopes to "continuing teaching and enjoy it without drowning in the paperwork!"
Publication date: 15 July 2015