Fflur gains first class honours and the University's top prize
Fflur Elin from Tonyrefail is the winner of the Dr John Robert Jones Prize in the School of History, Welsh History and Archaeology this year. This is one of Bangor University's main prizes and is given to the best graduates in their field of study.
Twenty one year old Fflur, a former pupil of Ysgol Gyfun Llanhari, graduated with first class honours in History and received a cheque for £1,500 during her degree ceremony.
Also during the degree ceremony, Fflur received the Charles Mowat Memorial Prize for £100. This prize was established in 1983 in memory of the late Professor Charles Mowat, Professor of History at the University from 1958 until 1970. This prize is awarded to the best honours graduate in History graduating from the School of History, Welsh History and Archaeology.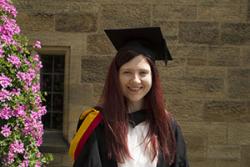 Fflur Elin
Fflur said: "I was overjoyed when I heard I had won the prizes. It means a lot to me that the work I have done over the past three years has borne fruit."
Having been brought up in Welsh, the language is very important to Fflur. She has always been interested in history and very fond of reading, and after attending an open day at the university and meeting the friendly staff and students, she decided that Bangor was the place for her.
Like a large number of students, Fflur worked during her time at Bangor, as she explained: "I worked at a book shop during my first and second year and throughout me three years at the university I have taken part in the annual telethons organised by the University's alumni department, where current students phone alumni to seek their support for the university. It was difficult to strike a balance between study and work but financially I had no choice.
"One of the most important projects I was part of at Bangor University was serving as a course representative for three years. I enjoyed being part of processes which improved courses for students. I was a member of UMCB and on the committee of the UNITY society.

"I'm sad to be leaving the School of History but I am looking forward to working for a year as President of Bangor Students' Union. I hope to be able to work with students in partnership with the University to make improvements; specifically working to make the curriculum more inclusive, working with the local community to improve the relationship between it and the university, and strengthening the community for postgraduate students."
Publication date: 14 July 2015