First Class celebration for Clearing student Cyan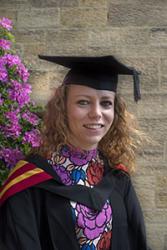 Cyan WilliamsA Master of Chemistry student who came to Bangor University through Clearing is graduating this week with a First Class degree.
Cyan Abigail Williams from Dunmow in Essex is also celebrating as she has been accepted to pursue a PhD at the University of Cambridge.
Despite Cyan's struggles with her studies at school, the 22 year old was determined not to give up on her hopes of going to university.
"I have dyslexia, Irlen syndrome and Attention Deficit Disorder (ADD). I take Ritalin for the ADD, and since being at university wear very dark tinted glasses and use colour paper for writing and reading for Irlens.
I struggled a bit at school and during my GCSEs but still achieved 2 A*s 7 As and a B and a C in my GCSEs. I wanted to study Medicine at the start of my A levels, however after receiving my AS results which were mostly C, D and Es, I knew this was not possible.
After working hard to improve my exam technique, I eventually passed A levels in Maths, Chemistry and Biology.
When I didn't get my first choice of University, I went on to Clearing, but couldn't find a course and university that felt right. I got into Bangor very late through Clearing as I was on a waiting list, and I got my official UCAS confirmation during Welcome Week!"
Whilst in Clearing, Cyan researched the surrounding area of various universities, and decided that Bangor was the ideal place for her.
"I Googled which university had the best amenities and facilities, and Bangor has a good Chemistry department, and a very good dyslexia department and an added bonus of being close to the beach."
The highlight of Cyan's degree was studying for her third and fourth year projects. The third year project was with Dr John Thomas, studying the catalytic activity of silver nanoparticle thin film and the fourth year project with Dr Vera Thoss, studying the stability of phytic acid in the environment.
"This was my first real taste of research, and I loved it! I could concentrate and focus for extraordinary lengths of times with ease, and I didn't mind working 12 hours days, and found it so exciting and engaging.
This way of learning suited me better than lessons in school or lectures or practicals at university. To be able to learn exactly how I want to learn and look up all the background and at my own pace, worked very well with my mind that seems to work differently to a lot of other people. The fact that I think and see things differently, is actually an advantage in research. I knew with absolute certainty this is what I wanted to be doing for the rest of my life."
Cyan very grateful to Bangor University staff for all the support and is now looking forward to the next chapter.
"I'm so glad that everything turned out well in the end and I loved my time in Bangor. I'm sad to be leaving Bangor, with its lovely beaches and mountains, and the life I've made for myself here.
I had very supportive parents growing up, both teachers, and they picked up on my difficulties very early and tried so many different ways to help me. When I came to university and learn how to do it all myself, only I could really understand how my brain was working, but I did this with help from lots of specialists from the Miles Dyslexia Centre and Chemistry department, as well as friends and family.
I'm extremely excited to be moving on to the next thing, which is a PhD in Graphene at the Doctoral Training Centre, University of Cambridge. I struggled to pass my A levels and at some point I didn't think I'd be able to get into university. Never in my wildest dreams could I have seen that happening four years ago.
There were so many times I wanted to give up and leave the academic system that clearly did not work for me, but I am so glad I kept struggling through so I could get to where I am now."
Publication date: 17 July 2015