First in her family to graduate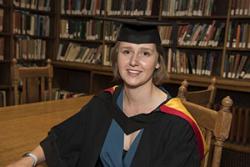 Ilona Coulson-AshworthBusiness Economics graduate Ilona Coulson-Ashworth from Bolton, has become the first person in her family to graduate from university - and has also been awarded the William and Myfanwy Eames Prize.
The prize was established in 1964 by means of a bequest to the University by the late William Eames of Cardiff. The prize is awarded by Bangor Business School to the student or students in the final year with the best performance in Economics.
Ilona, 21, on her time in Bangor, said: "I have loved learning lots of new economic theories throughout my course. Most of all, the biggest highlight I'd say is all the people I have met in Bangor and lifelong friends I've made. Bangor has such a friendly community. The one day that I will always remember is finishing my very last exam and relaxing in the sun on Newborough beach with my housemates."
She added, "In the Easter of this year was ill and in hospital for five days. I had to get the deadlines for all my assignments extended and I had more assignments to come during the semester. It was a very stressful time and the busiest semester I have ever experienced but I have just been awarded the Bangor Business School William and Myfanwy Eames undergraduate prize so it makes it all worthwhile."
During her time at Bangor, Ilona balanced her studies alongside volunteering. She volunteered at the National Trust's Penrhyn Castle, became a peer guide and a course representative, and also chair of the Bangor Economics Society.
In September Ilona hopes to study an MSc Agricultural Economics with the hopes of becoming an agricultural economist.
Publication date: 12 July 2016