First in her family to graduate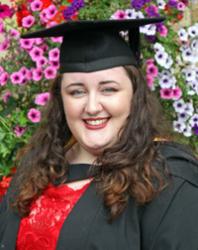 Ruby EttleLinguistics and French graduate Ruby Ettle, originally from Halesowen, West Midlands, has become the first person in her family to graduate from university. Ruby said: "I'm the first person from my family to go to university, so it's been a new experience for all of us from UCAS applications all the way to graduation and my family are very proud."
During her time at Bangor, Ruby balanced her studies alongside time abroad and work experience: "I worked several jobs within the university in a variety of different roles. My first job was a BEA internship with the International Student Support organising the One World Gala event. I also worked as a student warden. Working and studying at the same time can be a bit of a juggling act, but it all comes down to planning your time properly and being self-disciplined.
"I studied in Beijing in Renmin People's University of China, following that, I got involved with projects hosted by the Confucius Institute and worked with the English Language for Overseas Students as a summer programme social coordinator. I then did my year abroad component of my French degree with the British Council Language Assistantship scheme where I worked in a high school and sixth form in the Champagne-Ardenne region as an English language assistant. As I'd worked a lot with international students by this point, I was asked if I'd like to add an International Experience year to my degree working in Bangor's international office as the Incoming Exchanges Assistant.
"Finally, for the last year of my degree I took part in the Routes into Languages Cymru programme as a Student Languages Ambassador where I visited North Wales high schools to encourage year 9 pupils to take languages at GCSE and I also was a Student Reviewer on behalf of the Student's Union.
Alan Edwards, Head of International Student Support, said: "Ruby has been very active within the international student community, having volunteered as an International Student Ambassador, been a successful intern who organised the annual international gala concert and also worked for the Study Abroad/Exchanges office. She has also been a residential student warden and has therefore managed to cram a lot of experiences into her time at Bangor!"
Excited about the prospect of graduating, Ruby said: "I'm so happy to be graduating, it's what I've been looking forward to the most throughout the year and its exciting knowing I'm going onto new things."
Ruby is now working as a specialist in the flagship Apple Store in Birmingham, and said about her hopes for the future: "I have so many! I still want to try everything, but my main aim is to complete a PhD, but for now I'd like to work and travel."
Publication date: 18 July 2017