From Bangor to Abbey Road Studios
A chance meeting at a 'career day' led a Bangor University student to work with A-list musicians at Abbey Road Studios, the most famous, purpose built recording studio in the world.
Joanna 'JoJo' Arvanitis, 23, from Oxford proudly graduated with an MA in Music this week and is already working in her dream job. A former pupil of Wychwood School, Oxford, JoJo now works with the English Session Orchestra, who often record at Abbey Road Studios.
JoJo recalls: "In my third year at Bangor, an opportunity became available to be a 'fixer' for the Bangor Session Orchestra. Along with another student, Emily Knowles, I began preparations for three separate sessions: brass ensemble, string ensemble and choir. We 'fixed' the composers, musicians, conductors and technicians, organised the scores and coordinated the set up and had a brilliant time doing it. I immediately fell in love with this role and the initiative grew as we subsequently organised sessions for full orchestra.
"Little did I know at this point that it would be possible to do this in the real world. During a 'Career in Music' event at the School of Music,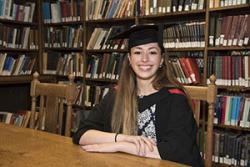 Jojo Arvanitis I met composer Tom Player, and said that I was interested in orchestral contracting. Amazingly, once I completed my studies at Bangor, Tom was able to put me in contact with Dom Kelly, director of the English Session Orchestra, one of the UK's most successful fixers, playing on hundreds of A-list sessions.
"I wrote to Dom asking if he might have any work experience and was fortunate enough to have a day at the studio. This was thrilling and I was shocked and delighted to be invited back for another two days of work experience at Abbey Road Studios! This led to more sessions and being given the role of Assistant Coordinator for the orchestra.
"The extra curricula activities available at Bangor are so valuable. There is always a 'real world' application, whether it's playing in an orchestra, being on a committee, front of house duties at concerts or just generally helping out around the department.
Dom Kelly, Director of English Session Orchestra, said: "I was introduced to Jojo via a composer friend of the orchestra's, Tom Player, in no small measure due to his orchestrator, Owain Llwyd of Bangor University. From what I can see, Bangor appears to be fast gaining an enviable reputation as a creative hub for fostering talent and forging industry contacts.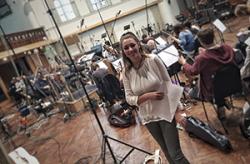 JoJo at Air Studios, London
"As a result, from an initial stint work-shadowing English Session Orchestra to her current post as Assistant Coordinator, Jojo has made herself an integral, coveted and indispensable member of the team, bringing a breath of fresh air to proceedings with her dedication, professionalism, initiative and distinctive charm. Bangor University should feel immensely proud to have produced such a fine ambassador and long may their department continue to flourish."
Publication date: 12 July 2016