From college students to university graduates: four friends celebrate another milestone together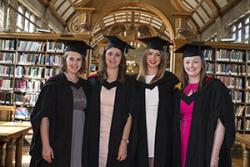 L-R: Medi Griffiths, Gwenno Williams,Nia Gwynedd & Catrin Williams A group of students who made the transition from college to university together are celebrating another milestone in their friendship this week as they graduate from Bangor University.
Gwenno Williams, Nia Gwynedd, Medi Griffiths and Catrin Williams became firm friends as students on the Business Studies A-Level at Coleg Meirion Dwyfor, Pwllheli.
Keen to pursue their degrees in Welsh, they became coursemates once again at Bangor Business School, where all four studied Marketing alongside Business or Business Studies.
Their shared university experience has brought them even closer to each other.
"Knowing the different strengths we each have meant that we could help each other out during group work", says Nia, 21, from Tremadog. "For me personally, the girls helped calm me down whenever I stressed out about exams or coursework."
21-year-old Catrin, from Llangwnnadl, adds: "As friends, we could discuss the work at any time and always have fun doing so. The whole experience was made better by the people around me, especially the girls".
Bangor's lively Welsh community was a bit draw for the four friends, whose first language is Welsh.
"Being a member of the Welsh Students' Society (UMCB) was a huge highlight, thanks to all the activities – such as rugby trips, social nights and the inter-university eisteddfod – arranged for us", says Medi, who comes from Trefor. "Although Bangor is a city I'd visited hundreds of times before university, coming here as a student was like discovering a whole new world on top of that hill!"
For 21-year-old Gwenno, from Edern, the close-knit community helped her to blossom. "Initially, I thought I would regret choosing a university so close to home", she recalls. "But the sense of belonging really brought me out of my shell. I've met lifelong friends and I will always be grateful to Bangor for that."
After three intense but exciting years, their graduation marks a new chapter as they prepare to follow separate paths, including travelling and a marketing career.
"The three years have flown by – after the first year I didn't think I would ever graduate", says Catrin. "But the experience has been amazing and has opened up so many opportunities for the future."
"It really has been incredible", adds Medi. "I've met people who will be part of my life for many years to come, and it's brought me so much closer to those I knew already.
"The academic side hasn't been easy, but all the hard work will be worth it in the future."
Publication date: 15 July 2015