From Nurse to Doctor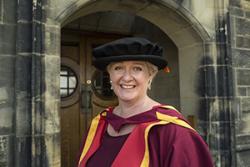 Charlotte HillierCharlotte Hillier will be graduating from Bangor University this week for the third time as she is awarded a PhD in Management Studies.
Charlotte, 46, from Llanddaniel has already graduated with a First Class Honours degree in Business Studies and Marketing and a Masters in Consumer Psychology at Bangor. She managed to juggle her studies alongside motherhood, raising her three children. She said,
"I started as an undergraduate in business and marketing in 1999 just as my eldest daughter started school, I did my MSc in Consumer Psychology when my second daughter was born and am now graduating with a PhD from the business school just as my youngest son leaves infants school! So I've always mixed studying with motherhood!"
Prior to her academic career, Charlotte was a nurse and a child therapist but with her entrepreneurial spirit, she decided to leave nursing and successfully set up several small businesses. She added,
"In 2005 I established a market research and marketing company, twelfthman Ltd with my now husband and won the Daily Post's WAG best business start-up award."
Given her deep interest in how nurses manage and improve their clinical practice, she returned to higher education (and to Bangor University), funded by a KESS* scholarship to explore nurses' perceptions of innovation and organisational culture. To gain real life, first hand knowledge of her chosen subject, she decided to return to nursing temporarily.
"In order to understand what it is like for nurses in today's NHS I completed my return to nursing course (also through Bangor University) and worked in a local hospital whilst also studying for my PhD – it certainly gave me a clear idea of the stresses nurses today. My children think it is very funny that I am both a nurse and a also now a Doctor!"
Such was the impact of her doctoral research, her external examiner, Professor Fiona Irvine from Birmingham University, encouraged to take her findings to the Welsh Government to effect change at policy level. Dr Hillier is continuing her research, having taken up a post with the prestigious health management group at Manchester Business School. Charlotte added,
"I'm currently working as a Research Associate and I'd like to progress my academic career in this area. I'm not planning on any more graduations!"
---
[*] Knowledge Economy Skills Scholarships (KESS) is a pan-Wales higher level skills initiative led by Bangor University on behalf of the HE sector in Wales. It is part funded by the Welsh Government's European Social Fund (ESF) convergence programme for West Wales and the Valleys.
Publication date: 16 July 2015