From retail invoices to Little Voices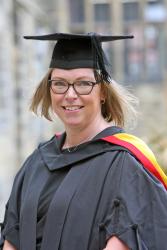 Claire HodgkinsonClaire Hodgkinson had always dreamt of going to university but, upon completing her A-Levels over twenty years ago, she couldn't see a career path forming in her mind's eye and so, instead of arbitrarily choosing a subject area to follow for three years, she decided to sign up to a retail management programme instead.
Success and promotions soon followed and Claire found herself in north Wales, in post as deputy-manager of stores at Llandudno and, lastly, Bangor. Being in the vicinity of Bangor University on a daily basis, Claire found herself thinking about higher education once again and, when her youngest of three children started to attend school full-time, she decided to apply to the University's School of Education and Human Development and was accepted onto the BA Childhood Studies programme.
Being a single-parent to three children under ten meant that time-management became a crucial factor in Claire's life as a student:
"It forced me to make the most of every opportunity to learn. The staff on the course were absolutely wonderful in supporting me with my workload – they wanted their students to succeed and were so accommodating and supportive," she said.
For her final-year dissertation, Claire worked on the Lleisiau Bach / Little Voices research programme. Little Voices is a process that allows children to conduct their own research projects and teaches them skills such as research methods, evaluation and analysis and final presenting of findings, all within the context of their school, their community and their peers, allowing them to bring about change in their community for things that matter to them. Reflecting on her work with the project, Claire said:
"The aim of the dissertation was to evaluate the Little Voices methodology, something which has never been done to date for this project. It allowed us to gain the children's perspective of the experience of being part of a child-led research project and we'd identified in our prior reading that there is very little evidence surrounding this currently.
"The children chose to get a fruit stand set up in school. They set up online questionnaires for parental opinions and carried out an interactive questionnaire with every child in the school before analysing the results and presenting their findings in a packed school assembly. They were successful in gaining the support of the Head and have had a very successful trial run at their sports day in July. The stall will be rolled out in full in September.
"It was wonderful working on a project that has real-world value and we've since had the opportunity to present our research at the Little Voices training days to representatives from the Children's Legal Centre, Children's Commissioner of Wales and education professionals. It's so exciting for me that my research may be useful and that there is still scope for me to develop it further even though my degree has finished."
"Getting my degree has certainly been a challenge but I've had a tremendous amount of support from the University and I can honestly say that I've enjoyed every minute of being here!"
Claire graduates this week with a BA in Childhood Studies and hopes to continue her research at Masters and PhD levels.
Publication date: 17 July 2019