From Saddleworth to South Korea – and now a First Class Sab!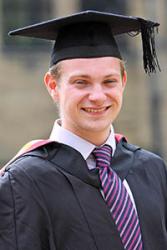 Mark BarrowA Bangor University student graduates this week after three years of hard work and embracing the opportunities offered.
Mark Barrow, 21, from Saddleworth, Oldham not only graduated with BA History with Journalism degree, the former Oldham Sixth Form College student also won the Dr John Robert Jones Prize of £600, which is awarded annually to the best students across all disciplines at the University.
Mark has been elected as Bangor University's Students' Union Sabbatical Officer for Education and has recently commenced his post and is looking forward to "view the University from another perspective".
The first in his family to attend University, Mark has always tried to succeed and has always tried to succeed and put a 100% effort into whatever he's doing.
Mark has really enjoyed his time as a Bangor student; he's worked, had an internship and had an amazing opportunity to visit South Korea. He explains:
"I had a number of responsibilities whilst a student. In my first year, I did admin work Outreach Rescue in Bethesda, and I also worked for the University as an Open Day Assistant, and also as a telethon worker for the Bangor Fund. I enjoyed having these extra jobs. It is important to manage your time effectively, as studying is clearly your priority, but I think students should be encouraged to find extra work, and save up some money.
"In my first year, I successfully applied for an internship. The work involved writing articles and staff profiles for the School of Psychology.
"In the summer of 2017, I took part in one of Bangor's study abroad programmes. I went to South Korea. This was one of the most enjoyable parts of my time as a student, and I would definitely recommend any Bangor student to get involved in the excellent international opportunities that are on offer here. The summer school programme, which I was part of, lasted for seven weeks. It was split into two parts - the first three weeks comprised of me teaching English to Korean students, whilst the second part saw me study Korean History and Culture. I made friends from all around the world while I was there, and I would encourage anyone to take part in that particular programme.
"It feels like a relief to be graduating, but also quite sad. I've really enjoyed my time as a student at Bangor, and the course I studied was fantastic, with a diverse range of modules that I was able to choose from. Being awarded the Dr John Robert Jones prize was a really nice surprise - I'd like to thank the University for awarding me the prize. I think it's great that Bangor University recognises students who are academically talented. It was the 'icing on the cake' of my time as a Bangor student.
"I'm currently working in Bangor's Students' Union as the Vice President for Education where I am responsible for representing the interests of the student body in all academic matters. After completing this role, I would like to return to academia to study a Masters and hopefully PhD."
Publication date: 17 July 2018