Graduation Profile: Arddun Rhiannon Arwel – BA Welsh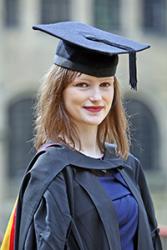 Arddun Rhiannon ArwelArddun Rhiannon Arwel, 22, comes from Dinas near Caernarfon. She graduated with a BA (hons) Welsh degree.
Background:
I come from Dinas, a village near Llanwnda, Caernarfon. I attended Felinwnda Primary School before going on to Ysgol Dyffryn Nantlle to complete my secondary education. My interests include politics, journalism, baking, creative writing and photography. I have also been a mental health blogger since June 2016, and I am very passionate about having essential mental health provision through the medium of Welsh.
Why Choose Bangor?
I decided to come to Bangor because it is a very homely place. Although I live close by, the experience of being a Bangor student was completely different to Bangor that I was previously familiar with.
Although Bangor is a small city, there is so much to do here. For example, the Pontio Arts and Innovation Centre offers a wide variety of events, and there are many opportunities to volunteer and join societies of your choice. I had also heard much praise for the University's School of Welsh, where I studied, and I was not disappointed because the support that I received over the past three years has been fantastic and extremely strong. Finally, it goes without saying that the Welsh language is important to me as well, and it was clear from the outset that Bangor University strongly believes in promoting the language, and seeing the importance of its use.
Working whilst studying:
I worked at the Awen Menai shop in Menai Bridge whilst studying. Awen Menai is a shop selling Welsh goods, and it was very beneficial to be in such a Welsh environment which helped develop my communication skills and build my confidence.
Student Experience:
During my first year I attended a session on how to write a drama as part of a joint project between BBC Wales and Theatr Genedlaethol Cymru, called 'Cer i Greu' (Go and create). Following this session, there was an opportunity for participants to write a short radio drama. I was fortunate enough to have my drama chosen to be developed and recorded by professional actors. Being involved in the actors' discussions and hearing my work performed was an invaluable experience and an eye-opener in terms of learning how to bring the written word alive. The play was recorded for the National Theatre Wales website.
One of my highlights was coming second in the Drama Medal competition at the Urdd Eisteddfod in 2017. By following the 'Scripting' module in my second year, I had the opportunity to write a 40-minute script for theatre, and it was this piece of work that brought me the success. Another highlight was meeting so many new people and creating lifelong friends who have enriched my student experience at Bangor.
I am open about my mental health, and I have fought with anxiety for many years. I was very concerned about going to university because it's a challenging experience for anyone, let alone someone with a mental health condition. The support I received from the School of Welsh was a great help, and there was no pressure on me to do anything that would make my condition worse, for example oral presentations. I was assessed in a different way during the first two years because I did not feel confident enough to speak in public. However, with the support and practical help of a number of people, I was able to increase my confidence and succeed in doing things that I would not dream of doing before.
Clubs and Societies:
I was a member of the Welsh Language Drama Association during my time at university, and through that I had a number of opportunities to see local shows and dramas, as well as attending workshops and an audience with a range of playwrights.
I was also involved with Plaid Cymru's youth branch where I helped with leaflet-distributing around the area, as well as attending the Youth National Conference in Cardiff for the first time.
How does it feel to be graduating?
Graduation is a very surreal feeling! I have had three special years studying at Bangor University, and it is bitter sweet feeling to think that it is coming to an end. I have a number of fond memories from my time here, but I am also looking forward to implement the skills that I have developed.
The future:
The Welsh language and culture is very important to me and to my future career prospects. I would like to work in Wales within a Welsh institution where the work encompasses promoting the use of Welsh through a variety of means, whether within the publishing industry, the third sector, the media or in a marketing role. I'm very interested in current affairs, the media and the arts, such as photography. My recent experience of blogging, vlogging and participating in radio and television interviews has certainly ignited my imagination and made me realise how much I enjoy writing articles in order to communicate information and experiences on the subjects I feel strongly about.
Publication date: 17 July 2018