Graduation Profile: Celyne Rathod
Celyne Rathod, 21, from Oldham, Manchester graduated with a BA Childhood Studies degree.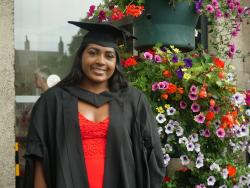 Background:
I've always wanted to go to University. Seeing what my older siblings and cousins have achieved made me want to follow their lead by going to university. I have always been a caring person and knew that I would want to work in a field that would support children, but I did not want to commit to being a teacher.
How does it feel to be graduating?
I remember my first day at University. It was all new and I didn't know anyone. I actually did not think I would make it to my graduation day. I am so proud of what I have been able to achieve by sticking with this. The experience did not feel real until I heard my name called and walked across the stage and collected my degree certificate. I was so happy that I was able to do it.
Why Bangor?
For the past 18 years, I had always lived in the same area where I grew up. I'd never been to Wales. When it came to looking at Universities in sixth form, I put in my course and searched where it was available. I felt that I should go somewhere I had not been before.
Projects:
My dissertation was a very interesting project and an experience that I was lucky to have been a part of. This was the Lleisiau Bach/Little Voices research project. Little Voices is a process that allows children to conduct their own research projects and teaches them skills such as research methods, evaluation and analysis and final presenting of findings, all within the context of their school, their community and their peers, allowing them to bring about change in their community for things that matter to them.
Clubs & Societies:
I was a committee member for the new UBT society in Bangor in partnership with CoppaFeel. The aim of our society was to raise awareness of breast cancer on campus and we were able to achieve our goal of raising over our target within our first year as a society. We ensured that we got the message out there through fundraisers that we held during our social nights and with a local school, along with keeping our social media pages up to date and giving guidance when needed.
Highlights:
The highlight was graduating, it is really a once in a lifetime experience and it is something I have always wanted to achieve since I was younger. As well as having the chance to work on such an amazing dissertation project.
The future:
I would like to go on to do a Masters in Children's Rights, or possibly working for the council supporting children.
Publication date: 17 July 2019