Graduation Profile: Jessica Nixon
Jessica Nixon, 21, from Burnley attended the Bacup and Rawtenstall Grammar School before she applied to study at Bangor University through Clearing. She has graduated with a BSc (Hons) Biomedical Science degree.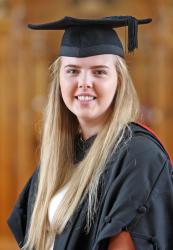 How does it feel to be graduating?
Amazing to finally have a degree and a great way to end my time at Bangor!
Background…
I originally wanted to study medicine but planned on having a gap year first. However, on results day I decided that I want to go to university, so I applied through Clearing to do Biomedical Science instead.
Why Bangor?
I like sport and Bangor University has a great sporting reputation, as well as the opportunity to study an accredited course that has great student satisfaction.
Working while studying...
I worked for Cricket Wales, coaching cricket throughout North and mid-Wales. It was challenging at times fitting everything in but working whilst studying is definitely achievable. I ensured that I had the best time in Bangor with a little bit of extra money in my pocket!
Clubs & Societies...
I was Captain and Coach for the Bangor University Women's Cricket Club for two years, as well as being the Club's Social Secretary. I was also the Healthy Living Officer for the University as part of the Athletic Union's Executive Committee. I was also a Course Rep for three years and a Lead Peer Guide.
Highlights...
I gained the award for the highest Biomedical marks in my second year, as well as getting a first! I won my Blues at Athletic Union dinner - that summed up three years of hard work and it was amazing to celebrate afterwards!
The future...
I've been selected on to a competitive public sector graduate scheme. 8,580 people applied for the scheme with only 435 successful applicants being selected after a rigorous 6-stage application process. I start the scheme in July, which begins with an intensive 6-week training course.
Publication date: 19 July 2019