Graduation Profile: Jiri Benacek – BSc Psychology with Neuropsychology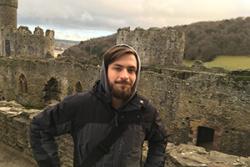 Jiří Benacek Jiri Benacek is from Prague in the Czech Republic. He is graduating with a first-class BSc Psychology with Neuropsychology degree.
How does it feel to be graduating?
It hasn't fully sunk in yet. While I was generally hesitant to call Bangor "home", I certainly feel homesick now that I am leaving after 3 years. I vividly remember my last evening there, and how I was strangely aware that it just might be the last time I see the city at night. It feels like an end of an era. Very rewarding, and strangely nostalgic.
Why choose Bangor University?
Bangor University initially caught my attention because it offered Undergraduate masters course in Psychology and because of its good ratings on various ranking tables and surveys. The other thing that helped me when deciding was its beautiful surroundings with Snowdonia and sea just within the reach.
Student experiences
During my time in Bangor, I tried to keep busy. Apart from my academic pursuits, I helped the International Marketing and support offices with recruitment and later supported international students as an International Student Ambassador. I took evening classes in Chinese through the University's Languages for All scheme. I briefly volunteered at a local centre for adults with mental health issues, where I led computer access hours and did basic IT support. Additionally, I have assisted the University recruitment team with open days, where I did tours of the University's facilities for prospective students and their parents. I have also been part of the School's student committee for the British Psychological Society's Welsh branch, organising and promoting local psychology-related events.
While all these were invaluable experiences, I am most grateful for being offered to intern at various researches. I helped with data collection for a PhD-level research, where I have been trained in using EEG and eye-tracking devices, briefly interned at a research studying human-robot interaction, and, most importantly, I have done my own research for the dissertation which potentially yielded publishing-worthy results.
The course
Psychology here is excellent. The course is mostly research-oriented so that means that you will participate in many interesting research projects and you will see how it is done from both sides - as a subject, and later, even as a researcher.
Sometimes, it can be challenging, but it is absolutely worth it. In my first year, I got to hold a human brain in my hands, and in my second year, I have been learning Behavioural Psychology on zombies (I am not even kidding!).
Bangor is a small town. This gives the School a unique opportunity of maintaining the sort of family atmosphere that other schools claim to have. Every lecturer and all the staff I met have been supportive and nice. You are not afraid of contacting anybody because you know they will be happy to help.
The highlight of my time in Bangor is most certainly the project I have been doing for my dissertation. Not only was it exciting to see and help shape a research in all the stages of its development and execution, but our results were interesting enough to start replicating the study with hopes of publishing an original paper. Not only is it interesting, but the possibility of co-authoring a paper made it the highlight of my studies that could substantially help me in my later career. Not to mention the fact that the mere thought of the existence of a paper bearing my name makes me incredibly proud.
Support from the University
Everybody here is really supportive and ready to help. The University has very good Students' Union and I also really appreciate that one of the first things they did when I started my studies was assign me a personal tutor, a go-to person who will do their best to help with anything. There is an accessible place for every question you might ever have.
What's next?
Neuroscience is a particularly multidisciplinary field and after some research into my opportunities after graduation, I have decided I would like to profile myself in the way that would allow me to use neuroscience in technology on a PhD level. To gain the necessary technical background, I have successfully been admitted to Edinburgh University to study an MSc in Cognitive Science. Here, I'll be studying the artificial intelligence, machine learning, and computational neuroscience with hopes of applying my gained neuroscientific background in the technological setting in the development of biologically-inspired intelligent artificial agents.
Publication date: 19 July 2018