Graduation Profile: Matilda Pears-Cooper
Matilda Pears-Cooper, 22, from Monmouthshire attended Hereford Sixth Form College before attending Bangor University. Matilda has graduated with a Master of Environmental Science degree and is working as a Warden for the North Wales Wildlife Trust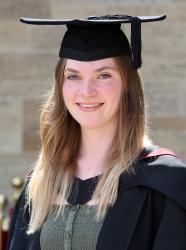 Graduating:
I am very excited and very ready to move on to new challenges, although I will really miss uni life and the friends I have made here.
Why Bangor?
I chose to study at Bangor because it offered the course in Environmental Science, which was not offered by many universities, especially in close proximity to mountains and the sea.
The location also makes it a perfect destination for my family and friends to come and visit and enjoy too. I had studied Environmental Science at A Level and really enjoyed it and wanted to pursue it further.
Highlights:
The fieldtrips and practical experience, especially the week spent in Tenerife in year 3 where we studied soils, modern tourism issues, and biodiversity. The fieldtrips were a great opportunity to learn about the local environment and local stakeholders such as environmental bodies, charities and private landowners. We had a range of trips from Snowdonia to Tenerife that allowed us to experience how local environmental and social problems, such as land and water use relate to national and global problems.
Clubs & Societies:
I was an active member and the Publicity Officer for the Conservation Society, which holds talks from UK conservation organisations, and workdays with the North Wales Wildlife Trust throughout the year.
Student Experience:
I've had an amazing experience, and a great opportunity to meet like-minded people. The course opened my awareness to so many issues and gave me a good foundation of knowledge in the field, which can be related to a range of jobs.
The Future:
I'm currently working for the North Wales Wildlife Trust as a part-time Warden at Cemlyn, Anglesey. My main duty is the protection of the breeding tern colony, where over 2000 Sandwich Terns, and around 30 Common and Arctic Terns are breeding. A large part of this is monitoring the colony from the pebble ridge separating the lagoon and nesting islands from the sea. The reserve is open to the public, so engaging with the public and educating them about the local species is a major part of the job. We start every morning with a 2-hour walk around the whole reserve making a count of all the bird and mammal species we can identify. We also make casual observations of the general biodiversity and seasonal changes. All of the data is logged and shared with other organisations including COFNOD, the local Environmental Records Centre for North Wales.
In August, I'll start a new part-time job as an Assistant Environmental Practices Advisor with the National Trust, based at Penrhyn Castle.
I hope to stay in north Wales for ever! I'm looking forward to starting my new part time job, and spending my free days volunteering and in my own garden, as well committing to learning more Welsh!
Publication date: 15 July 2019